Posted on
Mon, Jan 24, 2011 : 4:07 a.m.
Peggy Lampman's Monday dinnerFeed: Twice-Baked Potato with Spinach and Cheddar
By Peggy Lampman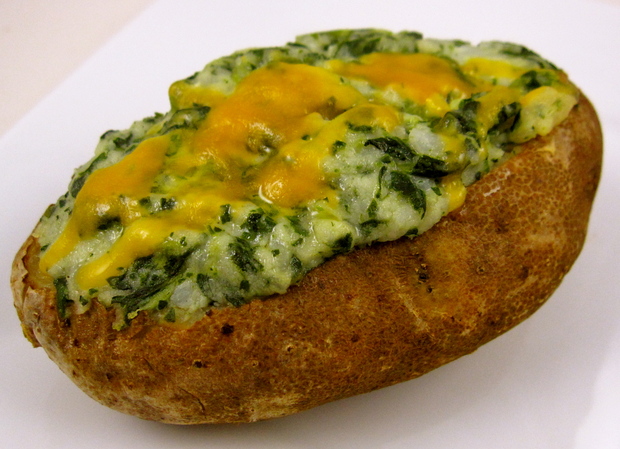 Peggy Lampman | Contributor
A big stuffed twice-baked potato makes a marvelous main course dinner; I've a favorite stuffed potato recipe that I enjoy, particularly when loaded up with butter, cream and sour cream. Tonight, at my husband's request, I'm switching out the fat for healthier options.
Butter is banished to make room for olive oil. Sour cream, only a fond memory, as fat-free yogurt takes its place. And so it goes, but the resulting potato is rich and satisfying. I intentionally made extra potatoes for leftovers; I wrapped then refrigerated them prior to the final bake.
Yield: 6 stuffed potatoes
Active Time: 20 minutes
Bake Time: 65-75 minutes
Ingredients:
6 medium-sized russet potatoes
Olive oil as needed for rubbing potatoes
1/8 pound (1/2 stick) unsalted butter (or 2-3 tablespoons extra virgin olive oil)
2 tablespoons sour cream 
(or plain yogurt)
1/4 cup half-and-half, cream (or milk)

1 teaspoon minced garlic

10 ounces frozen, chopped spinach, thawed (all excess water wrung out)

1/4-1 cup grated Cheddar cheese
Directions
1. Preheat oven to 400 degrees.

2. Rub olive oil over potatoes and lightly sprinkle with kosher salt, if desired. Place on middle rack of oven and bake 30 minutes. Prick each potato with a fork and continue cooking until potatoes are tender, about 15 additional minutes.

3. When potatoes are cool enough to handle but still warm, slice off 1/4 piece from the top of each potato and, with a melon baller or spoon, scoop flesh into a large bowl. Leave about 1/4-inch-thick shell on the potato "bowl" and place potato shells on a baking sheet.

4. Mash potato flesh with 3 tablespoons of the butter (or oil), sour cream (or yogurt) and half-and-half or cream (or milk), garlic and wrung-out spinach. Reserve.

5. When mixture is cool, stir in 3/4 cups of cheese, if desired, and season to taste with kosher salt and freshly ground pepper. Stuff potato mixture into potato shells and sprinkle each potato with remaining 1/4 cup cheese. (This can be done up to 24 hours in advance at this point.)

6. Bake on middle rack in 400-degree oven until heated through, 20-30 minutes.

Looking for a specific recipe? Click here for dinnerFeed's recipe search engine; type the recipe or ingredient into the search box. I am a real-time food writer and photographer posting daily feeds on my website and in the Food & Drink section of Annarbor.com. You may also e-mail me at peggy@dinnerfeed.com.