Posted on
Fri, Dec 31, 2010 : 3:16 p.m.
Peggy Lampman's New Year's Day dinnerFeed: Hoppin' John
By Peggy Lampman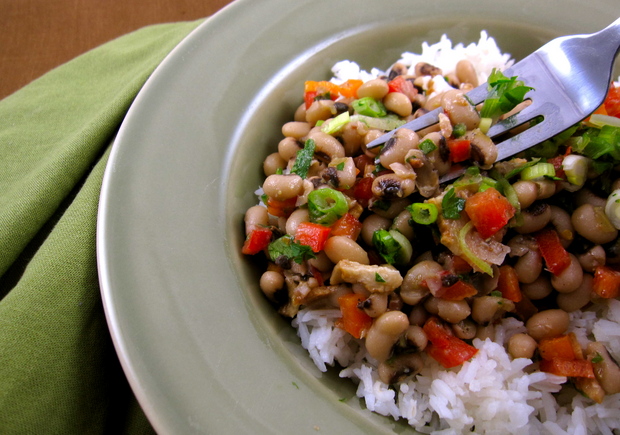 Peggy Lampman | Contributor

Happy New Year! Here's wishing you a heaping pot of good luck, prosperity and happiness in the coming year. I hedge the prosperity odds by eating a dish of Hoppin' John, a black-eyed pea dish typically served in the South, on New Year's Day. Earliest memory recalls my tiny fingers plucking out the peas and leaving behind the peppers-peas for pennies and greens (served on the side) for dollar bills.
In this economy, there's a run on black-eyed peas — some store in the area have sold out. I just found some at Hiller's, and the cashier told me the customer before me had just purchased nine different fruits to eat on New Year's Day — her culture's good luck charm.
If following the recipe below, make a double batch, insuring you have leftover Hoppin' John, which is referred to as "Skippin' Jenny" the next day. Eating leftover beans demonstrates frugality to the good-luck gods, assuring them you are sincere and deserving of prosperity.
Pull out your lucky charms and hope for the best!
Yield: Approx. 8 cups (without rice)
Soak Time (if using dried peas): 6-8 hours
Active Time: 20 minutes
Rest Time: 1 hour
Ingredients
1 pound dry black eyed peas
6 pieces raw bacon, chopped into 1-inch pieces
1 white onion, coarsely chopped
3 stalks celery, sliced
1 bay leaf
2 tablespoons extra virgin olive oil
2-4 tablespoons cider vinegar
1 small red bell pepper, seeds and membranes removed, diced
1 small orange or yellow bell pepper, seeds and membranes removed, diced
4 scallions, white and light green parts only, chopped
Hot pepper vinegar
Directions
1. Rinse dry peas, picking out and discarding cracked or yellowed peas. Soak 6-8 hours in
8 cups cold water; drain.
2. In a large cast iron skillet or sauté pan, fry bacon until crispy. Reserve fat and drain on
paper towels.
3. Transfer bacon fat to a large pot. Over medium heat, sauté onion and celery in fat 3-4
minutes, or until just tender and fragrant. Add drained, soaked peas, 6 cups of water and
bay leaf to pot. Bring to a boil, then reduce heat to simmer and cook, with lid slightly
ajar, until peas are almost tender, about 1 hour. Turn off heat, cover pot, and let peas sit
in cooking liquid 1-2 hours or until tender and creamy, but not overly soft and mushy.
Drain.
4. Whisk together oil and 2 tablespoons of the cider vinegar. Discard bay leaf from peas
and toss peas with cider vinaigrette, peppers, scallions and reserved bacon. Season to
taste with kosher salt, freshly ground pepper and pepper vinegar.

Looking for a specific recipe? Click here for dinnerFeed's recipe search engine; type the recipe or ingredient into the search box!