Peggy Lampman's Saturday dinnerFeed: Brined, Grilled Pork Chops
Posted on Sat, Jun 19, 2010 : 4:53 a.m.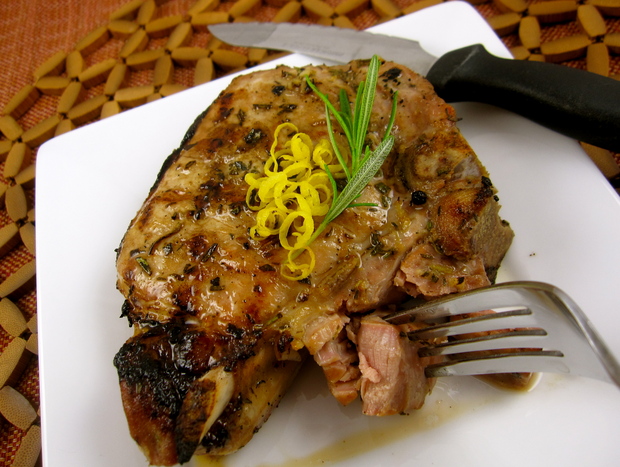 Peggy Lampman | Contributor

My great aunt Suela had a hog farm and, when I was a child, there was nothing more entertaining than spending a day with her at the farm. The highlight would be her calling the domesticated swine to their slop buckets: "Sue-we!" she shouted, cupping her hands to her mouth. (The "Sue" would be a cadenced trill and the "we" as sharp as an exclamation point!) We were almost knocked broadside by the stampede of those monstrous hogs, their hooves thundering the earth.

Like Aunt Suela, one of my finest honed talents is my hog-calling ability. I expect it must run in the family. There are a couple of farms outside of town where I go, from time to time, to practice this natural gift. These skills use to garner great admiration and respect from my children when they were small. Today, as young adults, they are appalled when I spot a hog farm and pull of the road to practice my art. Sadly, a once admired skill has turned into yet another one of mom's strange eccentricities.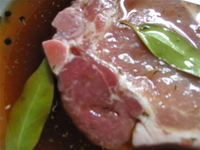 These days I notice hogs and pigs are more svelte. Unfortunately for me, a fattier chop means a more flavorful and juicier chop. I've been reading various
articles
over the years about this phenomenon. Apparently, in an effort to compete with the leaner, healthier public perception of chicken breasts , the pork industry mounted "The Other White Meat" campaign, and, over the years, they've been trimming down the hogs. To insure my thick chops remains tender and juicy without the excess fat, I brine them, especially before grilling. (Note: If sodium is a dietary concern, brining is not an appropriate recipe option.)
I'm sure Aunt Suela never heard the word "organic" in her life. But, indeed, her farm was organic and sustainable. Luckily for us, Arbor Farms stocks organic pork from Black Oak Farm in Fenton, Mich. Arbor Farm's Robert Cantelon tells me: "Chuck raises about 400 hogs on his certified organic farm, and we have the hogs processed for us into *Michigan Organic* pork chops, bacon, sausage and bratwurst. Chuck occasionally sells at the farmer's market, but we are the exclusive retailer. He's one of only three organic hog farms in Michigan/Indiana/Ohio area."
Yield: 2 thick juicy chops
Brine Time: 3 hours
Time: 35 minutes
Cost: apx. $11.50 (varies depending on price of pork chop)
Ingredients
1/4 cup kosher salt
1/4 cup dark brown sugar
1 teaspoon black peppercorns, crushed with the broad side of a chef knife
2 small bay leaves
2 bone-in pork chops, at least 1-inch thick
1/2 teaspoon lemon zest
1/2 tablespoon freshly lemon juice
1 tablespoon chopped fresh rosemary, plus extra sprigs for garnish
1 teaspoon extra virgin olive oil
Directions
1. Dissolve salt and sugar in 1 cup hot water. Add peppercorns, bay leaves and 1 1/2 cups of very cold ice. (Note: Brine should be cold before inserting pork chops.)
2. Place pork chops in a large nonreactive container or extra-large resealable plastic bag. Cover with brine and allow to brine at least 1 1/2 hours but no longer than 3 hours.
3. In a small bowl, combine garlic, lemon zest and juice, pepper, rosemary and olive oil. Mash together with the back of a spoon.
4. Preheat gas or charcoal grill to high heat.
5. Remove chops from brine. Pat dry with paper towels. Spread paste on both side of chops. Grill 2-3 minutes per side to sear. Reduce heat or move to a cooler section of the grill and continue grilling 8-10 minutes per side.
6. Remove from grill and tent with foil. Allow to rest 5 minutes before serving.

Looking for a specific recipe? Click here for dinnerFeed's recipe search engine; type the recipe or ingredient into the search box!