Peggy Lampman's Sunday dinnerFeed: Chocolate souffle
Posted on Sun, Feb 14, 2010 : 4:50 a.m.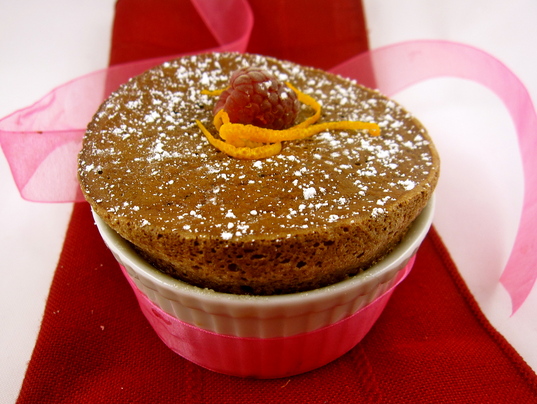 Peggy Lampman | Contributor
Happy Valentine's Day! Love, cyber-kisses and everything chocolate to all of you!
My Valentine's Day present to myself is an easy yet elegant, make-ahead dessert. I don't like scrambling around in the kitchen at the last minute so appreciate any recipe that can be assembled in advance; especially a romantic and fanciful recipe, such as Chocolate Souffle.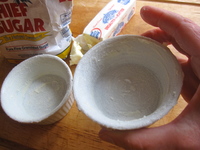 This recipe is really easy to make. The only condition is the dessert should be served immediately after removing from the oven.
That's not a big deal to me, especially since the work and mess were completed hours ago.

I've followed many souffle recipes through the years, and often return to a Maida Heatter/Wolfgang Puck recipe for chocolate souffle (Maida Heatter's Best Dessert Book Ever, 1990). I've made a few changes to the recipe, but I particularly appreciate her discussion regarding oven temperatures.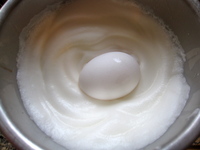 Higher temperatures yield a moist, creamy bite while a lower oven temperature (375Ëš) yields a cake-like bite. I much prefer the creamier outcome used with the higher oven temperature.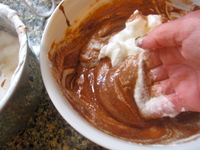 These soufflés are wonderful without accompaniment but I always have leftover heavy cream from the recipe, so I whip it and add Grand Marnier and sugar to taste. Maida Heatter's book recommends serving the dish with a White Chocolate Rum Sauce. Both are delicious served on the side.
Yield: 4 individual soufflés Note: I used individual ramekins (souffle cups) with a 2/3 cup capacity (apx. 3 1/3"-1 1/2") Active Time: 35 minutes Bake Time: 13 minutes Cost: apx. $6.00 Ingredients
1 tablespoon unsalted butter (for buttering ramekins) 2 tablespoons granulated sugar, divided 4 ounces semi-sweet chocolate* 1/4 cup whipping cream 2 large egg yolks 5 egg whites 1/8 teaspoon cream of tartar Confectioners sugar Fresh raspberries, optional garnish
*Many bars are available in 4-ounce portions so for convenience, I used one bar of semi-sweet Ghiradelli chocolate in this recipe. If you prefer an intense chocolaty flavor, use 2 ounces of semi-sweet chocolate and 2 ounces of bitter-sweet chocolate.
Directions
1. Adjust oven rack to lower-middle position and preheat oven to 425Ëš. 2. Generously butter ramekins well, including the top lip, then evenly and completely coat the ramekins with 1 tablespoon of the sugar; refrigerate ramekins until ready to use. 3. Melt chocolate in the top of a double boiler, or in a bowl set over a pan, of simmering water. In another small pan, heat the cream until hot but not boiling. When chocolate has melted, whisk the cream into the chocolate and whisk until chocolate and cream are smooth. 4. Beat egg and remaining sugar together. With an electric mixer, beat egg & sugar mixture into the chocolate mixture until smooth and shiny. Set aside. Clean beaters. 5. In a medium bowl, beat whites with elecric mixer set on medium speed until foamy. Add cream of tartar and beat on high speed to stiff, moist peaks. Do not overbeat. (The beaten whites should be able to support a raw egg in the shell, per photo above.) 6. On low speed, incorporate 1/4 of the stiff egg whites into the chocolate mixture. with your hands, gently fold in remaining egg whites. Do not handle more than necessary. 7. Pour the mixture into the prepared ramekins. (Note: At this point ramekins may be refrigerated, uncovered, up to 4 hours prior to baking.) 8. Place the ramekins on a baking sheet and bake for 13 minutes. Dust with confectioner's sugar, garnish with raspberries, if using, and serve.
Visit me on dinnerFeed for more more seasonal recipes and local value (recipe search engine on site.) Mini-recipes daily fed to you on my dinnerFeed Twitters.