Posted on
Sat, Jan 16, 2010 : 4:32 a.m.
Peggy Lampman's Saturday dinnerFeed: Italian farro pilaf with ground beef, fennel and peas
By Peggy Lampman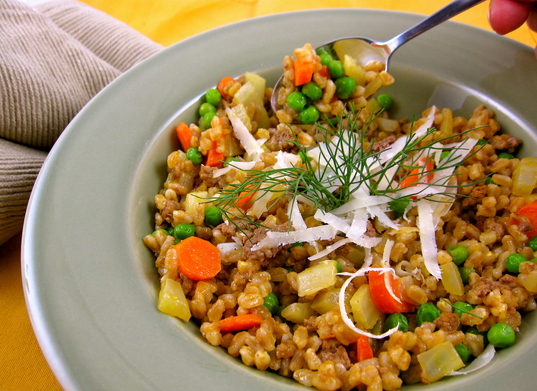 Peggy Lampman | Contributor
Detox Resolution Recipe Series: Using whole grains, vegetables, lean meats and healthier fats in recipes you may find taste really good!
Today is the first day I've ever cooked with or even tasted the grain, farro. I've been searching but have never found the product on local shelves. I just hit pay dirt! Not only does Arbor Farms carry farro (Italian farro, sem-pearled from Umbria, Italy; $6.99 for 18 oz), they have made-from-scratch farro salads which rotate in their deli case: "Roasted Beets with Farro" and "Farro Salad with Arugula and Peppers" (both $8.99#).
I needed a "skeletal" recipe to make my own version. I first checked out Mark Bittman's (copyright 1998) "How to Cook Everything", always one of my first pit stops before cooking with an unfamiliar product. No luck. Is this grain not part of Bittman's culinary "bible" for a reason? Does it take forever to cook? Is the flavor more suited for livestock?
Luckily there was a recipe on the back of the bag, but no cooking time for the grain was noted. From my experience with grains, the author of that recipe was wise. Cooking times for grains vary considerable according to how long the grain sits on the shelf.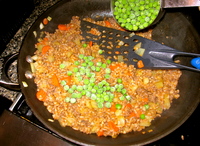 I used the "traditional" recipe on the bag as a guide, changing ingredients according to my palate, substituting fresh fennel for the celery and adding frozen peas at the end of the cooking time. It was easy and exceptional. My husband and I loved the toothsome texture and nutty flavor, gobbling it down faster than we'd care to admit.
I don't know why this ancient, nourishing grain is not more popular, and I'm hoping to introduce you to a grain you may not be familiar with as well. If you're currently a "farro fan", send me a recipe to share. Farro is well worth further investigation!
Yield: 2-3 servings Time: 30 minutes Cost: apx. $8.50
Ingredients
8 ounces farro 1 tablespoon extra virgin olive oil 1/2 small onion, diced (1/2 cup) 1 carrot, peeled and diced (1/2 cup) 1 teaspoon minced garlic 1/2 large bulb fennel, cored and diced (1 cup), plus fennel fronds for garnish 1/3 pound very lean ground beef 1/2 cup white wine 3 tablespoons tomato paste 1-2 cups chicken stock 1 cup frozen peas Parmigianno Reggiano
Directions
1. Bring 5 cups of salted water to a low boil. Cook farro in boiling water until just tender, about 15 minutes. Drain. 2. While farro is cooking, heat oil in a large sauté pan over medium-low heat. Sauté onion, carrot and fennel 5 minutes, or until just limp. Stir in garlic then beef, breaking up with a fork. Brown slightly, raise heat and add wine, cooking until wine is almost evaporated. 3. Reduce heat to medium and add farro and chicken stock to pan. Cook an additional 10-15 minutes or until farro is tender, yet toothsome, adding additional stock if necessary to cook to your palate's level of doneness. Stir in frozen peas, they will quickly cook within a minute. 4. Season to taste with kosher salt and freshly ground pepper. Garnish with fennel fronds and Parmesan and serve.
Visit me on dinnerFeed for more more seasonal recipes and local value (recipe search engine on site.) Mini-recipes daily fed to you on my dinnerFeed Twitters.