food & drink:

Peggy Lampman's Saturday dinnerFeed: Grilled Asian Tuna with Wasabi Butter

Posted on Sat, Jul 17, 2010 : 5:12 a.m.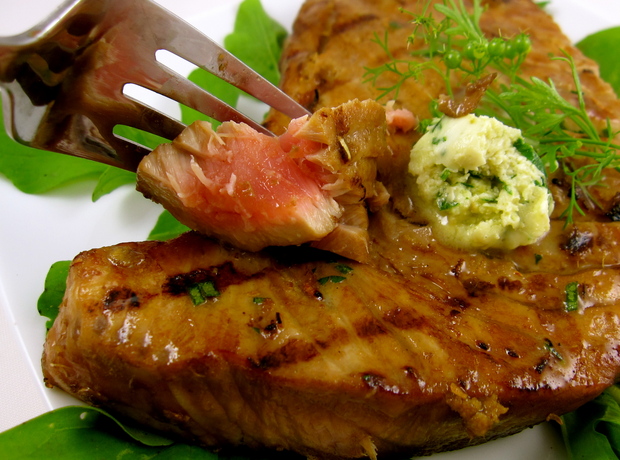 Peggy Lampman | Contributor

Sushi-fiend that I am, it's not a stretch to understand why I love this recipe. For many years, I've made some manifestation of this dish. I love fresh tuna, in general, prepared with Asian flavors, and the wasabi butter with cilantro is the piece de resistance in this particular recipe.

I purchased ahi, sushi-grade tuna steaks, and so will serve my tuna rare. For lesser grades of tuna, prepare grill to medium high heat and cook until just done. If you continuously baste the tuna with the marinade, it will remain moist and juicy.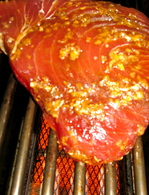 I made a few changes to the original recipe for simplification. As well, the recipe instructs one to grill the tuna until cooked throughout. Using a sushi-grade tuna, you may want to purchase the thickest steaks (1 1/4-1 1/2-inch thick) available, to insure you don't overcook the center as the exterior cooks to a golden brown patina.
This recipe is adapted from a grilled tuna recipe found in Sarah Leah Chase's "Nantucket Open House" cookbook published in 1987. The recipes are in the genre of the popular Silver Palate cookbook for good reason; Ms. Chase coauthored The Silver Palate Good Times Cookbook.
The tuna is delicious on a bed of arugula; make extra marinade and toss with cooked angel hair pasta and sesame seeds for the perfect side.
Yield: 4 servings
Marinate Time: 5-8 hours
Active Time: 20 minutes
Ingredients
2 tablespoons soy sauce
2 tablespoons sesame oil
1 tablespoon rice wine vinegar
2 tablespoon vermouth, sweet or dry (optional)
2 teaspoons brown sugar
1 teaspoon minced garlic
2 teaspoons grated fresh ginger
2 pounds tuna steaks, about 1 to 1 1/2-inch thick
2 tablespoons unsalted butter
1-3 teaspoons wasabi paste
1 tablespoon chopped cilantro
Directions
1. Make a marinade by whisking together soy sauce, sesame oil, rice wine vinegar, vermouth, if using, brown sugar, garlic and ginger. Marinate tuna in marinade at least 5 hours and up to 8 hours, turning steaks once after 3-4 hours.
2. Combine butter, 1 teaspoon wasabi paste and cilantro; add additional wasabi to taste. Refrigerate until ready to use.
3. Prepare a gas or charcoal grill to high heat. Grill 2-3 minutes per side for rare, basting with sauce. (Check level of doneness by pushing fork prongs into the thickest part of the tuna and gently pushing flesh aside.) Divide wasabi butter over hot tuna steaks and serve.

Looking for a specific recipe? Click here for dinnerFeed's recipe search engine; type the recipe or ingredient into the search box!