Peggy Lampman's Saturday dinnerFeed: Grilled Lemony Endive Spears
Posted on Sat, Jul 10, 2010 : 4 a.m.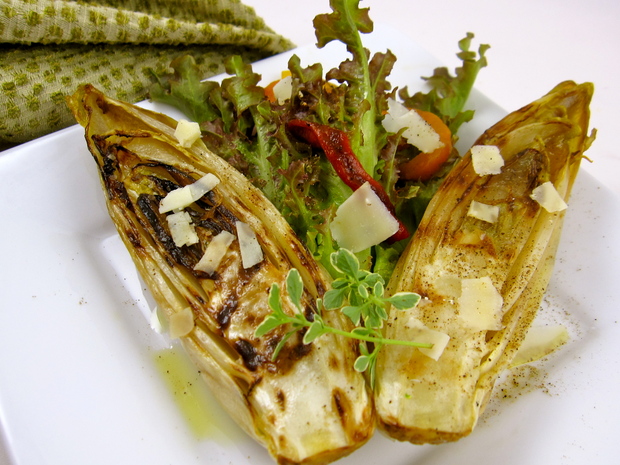 Peggy Lampman | Contributor

We're grilling salmon steaks tonight, without any more embellishment than a sprinkle of kosher salt and grind of black pepper. Therefore, I'd like the side dish to carry the weight with seasonings and flavors that will enhance and complement the fish.

This recipe is simpler, but similar, to another salad I recently enjoyed. The Grilled Insalata Tricolore is a bit more colorful and would also be delicious with grilled fish.

Grill peppers next to endive, if desired, and toss them with fresh greens to serve alongside the endive spears.

Yield: 8 endive spears
Time: 20 minutes
Cost: apx. $7.50

Ingredients

4 heads Belgian endive
3-4 tablespoons extra-virgin olive oil
Juice from 1 lemon
1 tablespoons chopped thyme (lemon thyme preferred) plus additional sprigs for garnish
3 ounces shaved Parmigiano-Reggiano, provolone or asiago cheese

Directions

1. Preheat gas or charcoal grill to medium high heat. Remove any wilted or brown-tinged leaves from the heads of endive and halve them lengthwise. Rinse in cold water and wipe dry with clean cloth or paper towels. Brush with 2-3 tablespoons olive oil and lightly sprinkle with kosher salt.
2. Grill the endive on cut side only until lightly charred and tender when pierced with a fork, 7 to 12 minutes, depending on heat of flame.
3. Drizzle with remaining tablespoon olive oil and sprinkle with lemon juice. Top with the shaved cheese and freshly ground black pepper and serve.


Looking for a specific recipe? Click here for dinnerFeed's recipe search engine; type the recipe or ingredient into the search box!