Posted on
Sun, May 2, 2010 : 4:12 a.m.
Peggy Lampman's Sunday dinnerFeed: Cheese omelet with spring herbs
By Peggy Lampman

According to
about.com
, "...when Napoleon and his army were traveling through the south of France they decided to rest for the night near the town of Bessieres.
Napoleon feasted on an omelet prepared by a local innkeeper that was such a culinary delight that Napoleon ordered the townspeople to gather all the eggs in the village and to prepare a huge omelet for his army the next day."
Easy and quick omelets suit today's chaotic schedules and frankly, there are as many fillings to put in omelets as there are techniques to follow.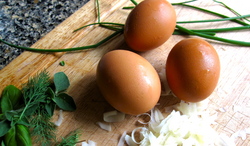 Clarified butter and half-and-half make the best omelets to my taste. But the clarified butter means heating butter, straining off the top and straining the bottom liquid. No time for that; I'll have to be extra careful to insure I don't burn the butter over the medium-high heat. I'm out of half-and-half and milk, so condensed milk from the cupboard will suffice.
A non-stick skillet is fine for making omelets, but I prefer my heavy-bottomed pan with a stainless steel (stick free) interior. The 8-inch diameter seems to make the perfect sized omelet.
I have a bit of gruyere to grate and herbs to pinch from new spring plants--5 minutes later and done!
Yield: 1-2 servings Time: 10 minutes Cost: apx. $2.00
Ingredients:
2 teaspoons unsalted butter, clarified if time allows 3 large eggs, room temperature 2 tablespoons half-and-half, milk or condensed milk 2 tablespoons chopped fresh herbs, such as chives, marjoram, dill, and basil 1/2 cup (lightly packed) grated Gruyere, Swiss or Cheddar
Directions
1. Lightly whisk eggs and milk or half-and-half together with a pinch of kosher salt and freshly ground pepper. 2. Melt butter over medium-high heat. When butter is bubbly, add egg mixture to pan. 3. With a spatula, pull up the just cooked sides of the omelet into the center, letting raw egg slide into hot pan. Sprinkle omelet with cheese and herbs. When cheese has just begun to melt, fold in half and serve garnished with herbs, if desired.
Looking for a specific recipe? Click here for dinnerFeed's recipe search engine; type the recipe or ingredient into the search box!