Peggy Lampman's Sunday dinnerFeed: Fruit, yogurt and granola parfait
Posted on Sun, May 16, 2010 : 4:09 a.m.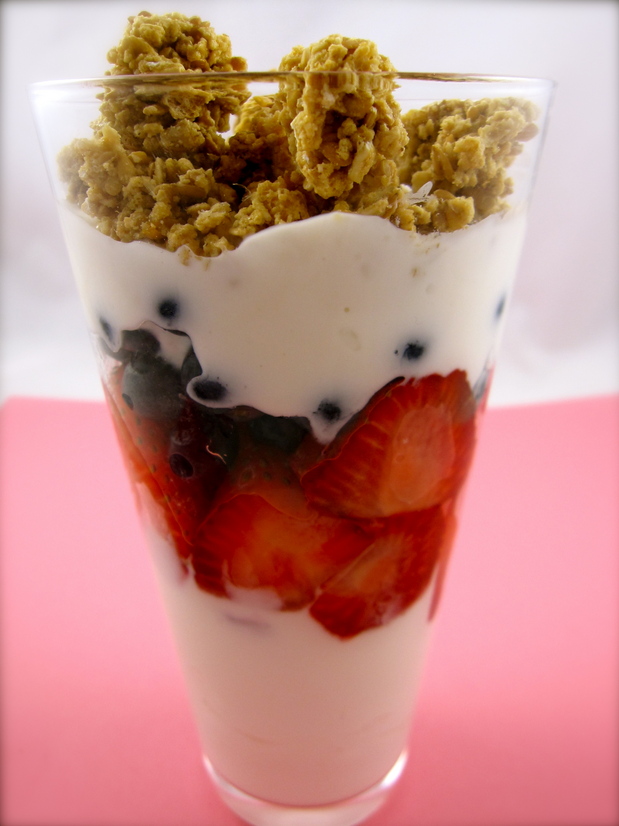 Peggy Lampman | Contributor

I, for one, am delighted that McDonald's has given us some leaner options. I hate being "forced" to eat fried chicken and mashed potatoes on road trips. (As close friends and family know, I relish any excuse to eat fried chicken, mashed potatoes and gravy, from you-know-who!) It's an ex-pat Southern thing, I understand, and when I indulge, I feel oily and bloated when I reach my destination.

I generally make healthy food choices, truly I do, and always remember to boil some edamame before road trips. They are great snacks and fun to eat out of the pods. But those evaporate as quickly as my willpower. The fast-food empires of America remain, luring me from every mile marker, like Hansel and Gretel to the gingerbread house. This year, mustering up every ounce of willpower, I've been avoiding the grease, selecting a Fruit 'N Yogurt Parfait from McDonald's, instead.

Today I was inspired to make a McDonald's copy-cat Fruit 'N Yogurt Parfait. Though better than most fast-food choices, McDonald's yogurt, granola and fruit are too sweet for my palate, so my version is far less sugary than you'll find under the golden arches. If you want more of a McDonald's version, choose Dannon or Yoplait vanilla yogurt instead of strained, plain yogurt; you also could add corn syrup to fresh fruit (or buy sweetened, frozen fruit and thaw) and select a sweet granola.

For dinner I'm in the mood for my adult version of chicken nuggets. I plan to indulge (on a small scale), or it may get ugly.

Yield: 2 large parfaits (the glasses I used measured 5 1/2-inches tall with a slender, tapered circumference; you will yield more parfaits if you use smaller glasses)
Time: 15 minutes
Cost: apx. $8.50

Ingredients
1 1/2 cups Fage Greek Strained yogurt, 2 percent or fat-free (3 7-ounce containers)
1-2 tablespoons agave or honey
1-1/2 cups sliced strawberries
1/2 cup granola (I prefer only slightly sweetened brands of granola)
Directions
Combine yogurt and 1 tablespoon agave or honey, adding additional to taste. Pour 1/2 cup of yogurt into a parfait cup or tall glass. Layer 1/2 cup of strawberries into the glass on top of the yogurt, pushing slightly into yogurt. Top with 1/4 cup blueberries.

Layer 3 additional tablespoons of yogurt over the fruit. Sprinkle 1/4 cup granola over the top and serve. Repeat for remaining parfait. Serve.

Looking for a specific recipe? Click here for dinnerFeed's recipe search engine; type the recipe or ingredient into the search box!