Peggy Lampman's Saturday dinnerFeed: Teriyaki appetizer meatballs
Posted on Sat, Feb 6, 2010 : 4:50 a.m.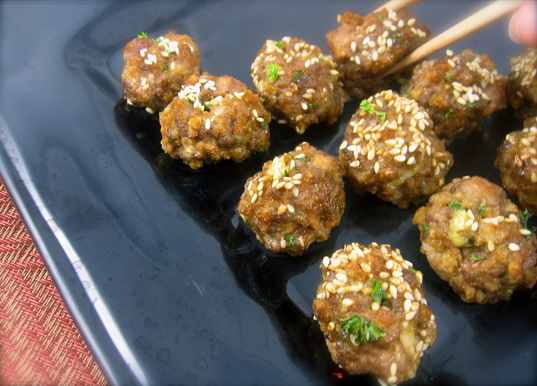 Peggy Lampman | Contributor
Tomorrow is big game day and guacamole and salsa tonnage will be consumed across the land. I'm going to switch things up a bit and serve Teriyaki Meatballs and spicy Asian Chicken Wings. I'm making the meatballs today and will bake them before the game tomorrow.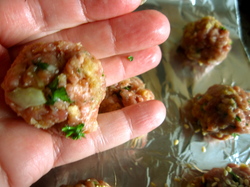 Many think "
teriyak
i" is a cooking condiment, like soy sauce. Actually it's a Japanese cooking technique that includes basting with a sauce. The teriyaki sauce we generally see in groceries is usually a blend of soy sauce,
mirin
(sweet rice wine) and sugar.
For convenience, I buy the prepared Kikkoman teriyaki sauce selecting the low-sodium version, which has enough sodium for my palate.
It will be Super Bowl Sunday so I can't resist serving guacamole with my Asian-inspired menu. My guacamole heat, however, will be derived from wasabi instead of traditional hot peppers. I also serve the wasabi-guacamole with rice crackers instead of chips.
Yield: 30 meatballs Cost: $6.50 Active Time: 15 minutes Bake Time: !5 minutes
Ingredients
1 large egg, beaten 1-3 teaspoons wasabi powder or paste* 1/2 cup low sodium Teriyaki Sauce plus sauce for brushing 1/2 cup panko (Japanese bread flakes) or plain bread crumbs 2 minced scallions, white and light green parts only 2 tablespoons chopped cilantro, optional 1 pound ground beef or turkey 3 tablespoons sesame seeds
* To determine amount of wasabi to use, fry or microwave a bit of the mixture before baking, adding additional wasabi to taste. Cayenne may be substituted
Directions
1. Preheat oven to 350Ëš. 2. In a medium sized bowl, combine egg,wasabi, teriyaki sauce, bread crumbs, scallions and cilantro. Combine well then add ground beef or turkey, completely incorporating into bread mixture with a fork. 3. On a foil-lined baking sheet, make tablespoon-sized meatballs. Brush with teriyaki sauce and sprinkle with sesame seeds. 4. Bake 15 minutes, or until cooked through, then serve.