Peggy Lampman's Sunday dinnerFeed: Mother's day waffles with warm strawberry compote
Posted on Sun, May 9, 2010 : 4:51 a.m.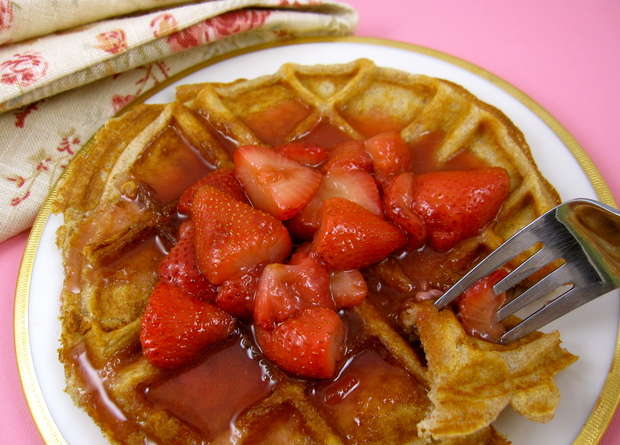 Peggy Lampman | Contributor

Happy Mother's Day! I recently blogged about the interesting chain of events leading up to the creation of Mother's Day as a national holiday. My recipe was composed of "Super Foods" for "Super Moms," and if you're interested in a deliciously healthy grilled salmon and edamame salad, click here.

Today's recipe is a bit more conventional Mother's Day brunch-ish, but I kept the health component flame flickering by using whole wheat flour and fresh strawberries, so good at this time of the year.

I use an Oster Belgium Waffle maker for making the waffles, with a 7 1/2-inch circumference.

Yield: 3 1/2-4 cups batter (6-8 waffles) ; 2-2 1/2 cups Strawberry Compote Time: 40 minutes Cost: apx. $10.00

Ingredients

3 teaspoons unsalted butter 1/2 cup sugar 3 tablespoons orange juice 1 1/2 pounds fresh strawberries, washed, hulled and cut in half 1 1/3 cup whole wheat or white flour 1/2 tablespoon sugar 1/2 tablespoon baking powder 1/2 teaspoon baking soda 1/2 teaspoon salt 1/3 cup vegetable oil, plus additional for brushing waffle iron 1 1/2 cups well-shaken buttermilk 2 large eggs

Instructions

1. In a medium-sized sauté pan, melt butter. Add sugar and orange juice; cook until sugar dissolves. 2. Add strawberries and cook, stirring, until they soften and begin to release juices, 3-5 minutes. 3. Preheat oven to 200˚. Heat waffle iron. 4. Whisk together flour, sugar, baking powder, baking soda, and salt. Add buttermilk, oil, and eggs to dry ingredients and whisk until smooth. 5. Brush hot waffle iron lightly with vegetable oil, if necessary, and spoon batter into waffle iron; cook according to manufacturer's directions. Transfer waffles to a baking sheet, and place in oven until ready to serve. 6. Spoon warm strawberry compote on waffles before serving.

Looking for a specific recipe? Click here for dinnerFeed's recipe search engine; type the recipe or ingredient into the search box!