Posted on
Thu, Oct 21, 2010 : 4:11 a.m.
Peggy Lampman's Thursday dinnerFeed: Cajun Red Bean and Chicken stew
By Peggy Lampman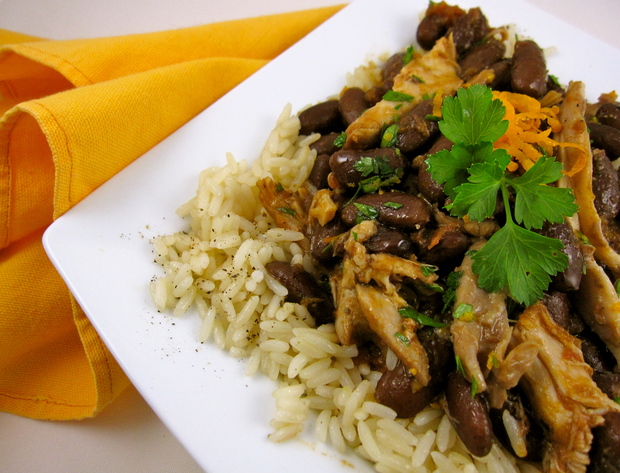 Peggy Lampman | Contributor

Here's the scenario. It's a Saturday morning and you are well-rested and caffeinated. You had big plans for today. The weekend forecast promised blue skies and moderate temperatures (for Michiganders, moderate means low-60s.)
Possible activities stretched across the horizon: biking to Dexter, picking apples or walking through the Arb. But you woke up to an icy drizzle. Suddenly deflated, you consider alternative plans.
You eye the stove; you could always cook. Make a simple meal, perhaps, that requires a long, slow simmer; a meal that doesn't insist on more effort than a bit of chopping and an occasional, solid stir.
Alas, all that's in your fridge are some chicken thighs, or maybe sausage. Even a drive to the supermarket for provisions seems too much to contemplate. Restlessly you fumble through your pantry shelves to see if you can avoid the foul weather, pajama-clad yet well-fed.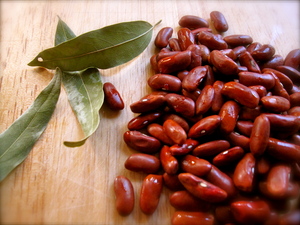 Are those red beans back there, behind the spices and rice? Beans and rice, you think, now that would be a satisfying option. You could throw in some chicken or sausage and a can of tomatoes, use up some of those spices to give the dish a Cajun sting, jazz it up with heat on this blustery day.
Cooking dried beans, coaxing their tired, hard shells to a creamy, unctuous bliss, savoring the aromatherapy of simmering bay leaves, spices and onion, can be a pleasurable house-bound activity. All dried beans demand from you is time, not active time, but a watchful eye, nevertheless. On weekend days when the weather fiercely rages, all I have is time.
Volumes have been written about cooking dry beans. My advice? Don't put them on a schedule; they may be low maintenance, but beans are free spirits and will tell you when they are ready.
Don't let the fact you forgot to soak the beans stop you from enjoying them. Indeed, fast-cooking beans such as lentils don't even require a soak, much less an extended cooking time. But the fat red beans used in this recipe may require several hours.
And about that soak. I've soaked beans for 24 hours and have quick-soaked them by placing them in boiling water, turning off the heat and allowing the beans to sit, covered, for an hour. Fine and dandy; this premeditation does shave an hour from the cooking time. But it's not necessary. I'd rather have them spend that extra hour simmering and soaking up the flavorful cooking brew.
And wait, there's more. A recently harvested bean may cook twice as fast as a bean that has been sitting on a grocery shelf or in your pantry for months -- even years. The only way to predict precise cooking times for dried beans would be if you're cooking beans from the same batch and cooking them within a short time frame.
I much prefer the texture and flavor of dried beans to canned; the long simmer time in seasoned broth seeps out and unleashes their creamy goodness. Crock pots and pressure cookers, also, may perform the same miracles. Let the contents of your fridge tell you what to add to your beans. Any type of fresh pepper, carrot or celery would be perfect additions. If you're lucky enough to have a smoked ham hock or turkey leg, so much the better.
Fast forward, somewhere between lunch and dinner: You are finally enjoying a delicious chicken and bean stew, the fresh orange zest and juice were last-minute inspirations. You notice the rain has ceased and leaves on the sugar maple are glistening red in the afternoon sun, set off by an impossibly blue sky.
How lovely, you think, resting your book in your lap and looking up, pausing to admire the beautiful day. You savor another bite, snuggle contently into the sofa pillows and resume reading, picking up where you left off.
Yield: 7-8 cups (without rice)
Time to quick soak beans* (optional): 1 hour
Active time: 20 minutes
Simmer time (mostly unattended): 2-5 hours (depending on type & age of bean)
Cost: approx. $13
Ingredients
2 tablespoons extra virgin olive oil
1 white or yellow onion, chopped (2 cups)
2 teaspoons minced garlic
2 teaspoons chopped dry rosemary
1/2 teaspoon paprika, smoked paprika preferred
1/2 teaspoon white pepper
1/2 teaspoon red pepper
1/2 teaspoon black pepper
5 meaty chicken thighs (bone-in, skin removed)
1 (28 ounce) can plum tomatoes
1-3 cups chicken stock
2 cups dry kidney or red beans, quick soaked* if desired
1 bay leaf
3 tablespoons chopped parsley
Zest and juice from 1 orange (optional)
*Quick soak method: Place beans in a pot and cover with water; water should double depth of dry beans. Bring to a boil, cook for 2 minutes, then turn off heat. Soak for 1 hour, covered. Rinse and use as directed.
Directions
1. In a heavy-bottomed pot or Dutch oven, heat olive oil over medium heat. Stir in onion and sauté, stirring occasionally, 3 minutes or until just tender. Stir in garlic, rosemary, paprika, white pepper, red pepper, black pepper and cook an additional minute.
2. Add skinned chicken thighs to pan and lightly brown on both sides. Tear plum tomatoes into large pieces and add to pot, including all juices from can. Add 1 cup of stock to pot. Stir, lifting up chicken pieces, then stir in beans.
3. Cover pot and simmer, occasionally stirring, over low heat, until chicken is tender, about 1 hour. Remove chicken from pot and cut meat from bones. Shred chicken and reserve, refrigerated.
4. Return chicken bones to pot, cover and simmer an additional 2-4 hours, stirring occasionally, or until beans are creamy and tender. (Cooking time depends on bean and age of bean.) If water evaporates, add additional stock.
5. Remove chicken bones and bay leaf. Stir in reserved chicken and re-heat meat. Before serving, stir in parsley and orange juice and zest, if using.

Looking for a specific recipe? Click here for dinnerFeed's recipe search engine; type the recipe or ingredient into the search box!