Posted on
Thu, Jan 27, 2011 : 4:28 a.m.
Peggy Lampman's Thursday dinnerFeed: Eight-Treasure Fried Rice
By Peggy Lampman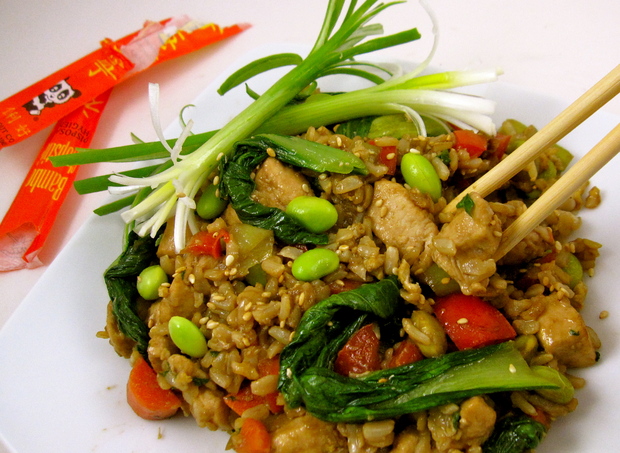 Peggy Lampman | Contributor

Mark your calendars; Chinese New Year,The Year of the Rabbit,
officially begins
next week, Feb. 3. According to the website
Chinese Zodiac/Rabbit
, people born in the Year of the Rabbit (1915, 1927, 1939, 1951,1963, 1975, 1987, 1999, 2011)
are articulate, talented and ambitious. Rabbit people are also virtuous, reserved and have excellent taste. I have several "Rabbit" friends, and I can attest that trait extends to their excellent taste
buds
; enjoying delicious Chinese food is always on their radar.
According to Elizabeth Chong's, Heritage of Chinese Cooking, in the early days of the Han dynasty (202 BC-AD 220), rice was considered a delicacy as millet was the staple grain. Eight-treasure rice depicts the spiritual significance of rice to the Chinese people, bringing good fortune and blessings at the beginning of a New Year.
In Asian cuisine, The name "Eight-Treasure" is the descriptor preceding many dishes, including poultry, soup, desserts and teas. Topping that list is a wide variety of Eight-Treasure Fried Rice recipes.
Indeed, after perusing my collection of Asian cookbooks and an inspired cruise through the internet, I've come to the conclusion there are as many recipes for fried rice as there are rice paddies in China. Fried Rice, it seems, can be anything you want it to be. For me, it's is a handy generic slate to which a fridge full of leftovers may be added, minus the excess fat and additives you often find in Chinese take-out food.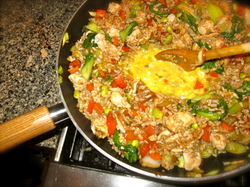 According to Susanna Foo, acclaimed Chinese restaurateur and cookbook author: "Whatever your ingredients (when cooking fried rice), the basic technique remains: the egg (a component of most fried rice dishes) must be fried until it is lightly golden and aromatic and the scallions cooked until soft." Chef Foo also advises against the use of soy sauce as it "...spoils the delicacy of this dish." Soy sauce, however, was delicious in the recipe below; I selected antioxident-rich brown rice over the soft, sweet and delicate white rice typically used when making fried rice.
I would also add a tenet to Chef Foo's fried rice credo: your rice should be well-chilled so the starch hardens and easily fries.
Alas, I am not fortunate enough to have been born in the Year of the Rabbit. My husband and I were born in the Year of the Goat, and our traits include being shy, pessimistic and puzzled about life. Maybe so, but we know good fried rice when we eat it.
Yield: 6 servings
Time: 45 minutes
Ingredients
4 tablespoons plus 1 teaspoon canola, peanut or grape seed oil
3 raw chicken breasts, cut into 1/2-inch diced pieces (2 cups)
3 bunches baby bok choy, leaves separated, separate stem from leaves and dice stem
3 1/2 ounces shitake mushrooms, woody ends removed, cleaned and sliced (2 cups)
1 cup diced carrots
1 cup finely diced red bell pepper
1 cup frozen shelled edamame
4 scallions (both white and green parts), thinly sliced
2 tablespoons finely grated fresh ginger
1 tablespoon minced garlic
4 cups very cold cooked brown rice
3 large eggs, lightly beaten
1/4 cup lower-sodium soy sauce
1 cup coarsely chopped cashews or peanuts,optional
1/2 cup chopped cilantro
Directions
1. Heat 2 tablespoons oil to medium high heat. Cook chicken until chicken has lost pink color, about 3 minutes, then add bok choy greens (reserving diced stem) to pan.
2. Cook an additional minute, stirring, then add shitake mushrooms to pan. Cook, stirring, 30 seconds and remove from heat. Tranfers to another dish; it will return to the pan.
3. Heat two tablespoons of oil over medium heat. Add bok choy diced stems, carrots and bell pepper to pan and cook, stirring frequently, until the vegetables begin to soften, 3 to 5 minutes. Add the edamame and cook until the edamame is thawed, about 1 minute. Add the scallion, ginger, and garlic and cook, stirring, 1 minute. Add the rice and reserved chicken mixture to the pan and cook, stirring, until heated through, 3 to 5 minutes.
4. Make a 3-inch well in the center of the rice mixture. Add the remaining 1 teaspoon oil into the well, then the eggs, and cook, stirring, until the eggs are almost fully scrambled, golden and aromatic. Stir the eggs into the rice mixture. Stir in the soy sauce, nuts, if using, cilantro and serve.

Looking for a specific recipe? Click here for dinnerFeed's recipe search engine; type the recipe or ingredient into the search box. I am a real-time food writer and photographer posting daily feeds on my website and in the Food & Drink section of Annarbor.com. You may also e-mail me at peggy@dinnerfeed.com.