Posted on
Thu, Feb 18, 2010 : 4:50 a.m.
Peggy Lampman's Thursday dinnerFeed: Gumbo ya-ya
By Peggy Lampman
Peggy Lampman | Contributor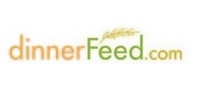 Gumbo isn't so much a recipe as it is a state of mind, complete with secret language and poetic license.

"Gumbo" connotes one-too-many hurricanes. One, a cloud-funneled storm, the other, a rum-based drink experienced in a feverish pitch of shiny beads and parades.
"Gumbo Ya-Ya" recalls chattering women cooking in the French Quarter. The "Experience New Orleans" Web site suggests "Gumbo Ya Ya" to be a noisy party.
"Gris-gris Gumbo Ya-Ya" is singer/songwriter Dr. John casting voo-doo magic into his listener's ear: "I got my medicine, to cure all y'alls ills... got remedies of every description...Gris-Gris, Gumbo Ya Ya".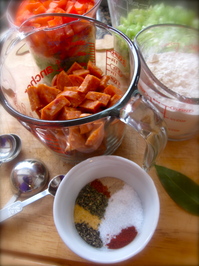 To my husband, Richard, gumbo only means the tasty chicken and andouille sausage recipe I make every year celebrating Mardi Gras. This year I'm making a double batch and inviting the family over to applaud the New Orlean's Saint's Super Bowl win.

To that end, gumbo means compromise. If I fry the chicken for the gumbo, and make my roux from the chicken fat, my "heart-smart" husband will voice concern. If I add a lot of hot pepper and okra, the children will protest.


My mom followed a gumbo recipe in her Baton Rouge "River Road" Cookbook. She said that if a recipe didn't include okra, you couldn't call it gumbo.


I've eaten gumbo at K- Paul's as well as Mr. B's in New Orleans and neither of these venerable restaurants put okra in their gumbo. Maybe they don't want to upset the tourists. I love okra in this gumbo but omitted it; if you like okra, I'd encourage you to return it to the pot.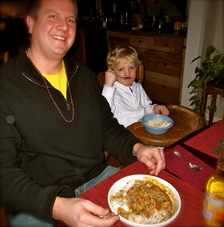 There are some iron-clad commonalities to all gumbos. It wouldn't be gumbo without the "holy trinity" of chopped celery, onion and bell peppers. Creole and Cajun gumbos traditionally include a "roux" to thicken the gumbo with a stock added to make the "stew". There are an endless combination of roux colors and flavors; I prefer using a dark red-brown roux in this recipe.

A dark roux is essential to gumbo, delivering its inimitable, deep nutty flavor. To make dark roux, Paul Prudhomme (Louisiana's father of Cajun cuisine) recommends adding the flour to the oil when it is at its smoking point, and rapidly whisking as you add the flour. Granted, this method delivers a wonderful dark roux in minutes. But it involves extremely high heat and furious whisking; if the roux splatters onto your skin (Prudomme refers to this as "Cajun Napalm"), you could be on the receiving end of a very bad burn.
I err on the side of caution cooking my roux over medium heat, while slowly adding flour, vegetables and stock. This recipe technique takes longer to make, but the end result is just as delicious. The technique is in-line with the online version of Mr. B's chicken gumbo recipe.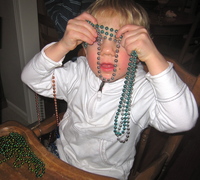 Like any childhood food you may have been raised on, gumbo's left a footprint on my soul, recalling a chain of kin-folk stirring up a palette of earthen browns in cast-iron skillets.

Making gumbo is conjecture. It's leaving the recipe behind and opening your palate to flavor you may never knew existed.
This be some mighty fine gumbo. Serve with white rice, Tabasco and a Zydeco two-step.
Yield: 8-9 cups
Time: 2 hours
Cost: Approx. $14.50
Ingredients
1 cup canola, grape seed or vegetable oil
1 cup all-purpose flour
1 1/2 cups chopped white onion
1 cup chopped celery
1 1/2 cups chopped bell pepper (green or red or a combination)
4-5 cups chicken stock
1/2 pound andouille sausage, or other spicy sausage, cut into 1/4-inch pieces (1 1/2 cups)
1 bay leaf
1 teaspoon kosher salt
1/2 teaspoon paprika
1 teaspoon dried thyme leaves
1/2 teaspoon garlic powder
1/4-1/2 teaspoon white pepper
1/4-1/2 teaspoon cayenne
1/4-1/2 teaspoon black pepper
4 cups cooked chicken meat*
Chopped parsley or green onions, optional garnish
*I simmered a chicken the day before making the gumbo. I pulled the meat from the bone for the recipe and made stock with the resulting carcass. The meat from a purchased rotisserie chicken would save time.
Directions
1.In a large cast iron skillet, heavy-bottomed pot or Dutch oven, heat the oil over medium heat. Gradually add 1/3 cup flour to oil, whisking or stirring constantly, and cook 30 seconds; add another 1/3 cup flour, cooking and stirring 30 seconds, then stir in final 1/3 cup flour. (Note it is critical to continuously stir or whisk the flour to incorporate into the oil. This keeps the flour from lumping and burning.) Stir flour-oil mixture often for 25-35 minutes, or until your roux is a rich red-brown color.
2. Add the onions, celery, and bell peppers and continue to stir for 4 to 5 minutes, or until the vegetables are wilted. Gradually add 4 cups of the stock to the roux, stirring or whisking constantly to prevent lumps. (As gumbo simmers, add additional stock if it appears to be too thick. If you are using a cast iron skillet, you will need to transfer the mixture to a pot.)
3. Add the bay leaf, salt, paprika, thyme, garlic powder and 1/4 teaspoon each of the white, cayenne and black peppers, adding additional pepper to taste, if desired. Continue to stir for 3 to 4 minutes. Bring to boil, then reduce heat to medium-low. Cook, uncovered, stirring occasionally, 45 minutes. Add chicken meat and simmer 15 minutes. Season to taste with kosher salt, if desired, and serve.

Visit me on dinnerFeed for more more seasonal recipes and local value (recipe search engine on site.) Mini-recipes daily fed to you on my dinnerFeed Twitters.