Posted on
Thu, Dec 30, 2010 : 4:19 a.m.
Peggy Lampman's Thursday dinnerFeed: Baked (or grilled) oysters with Romano and Creole sauce
By Peggy Lampman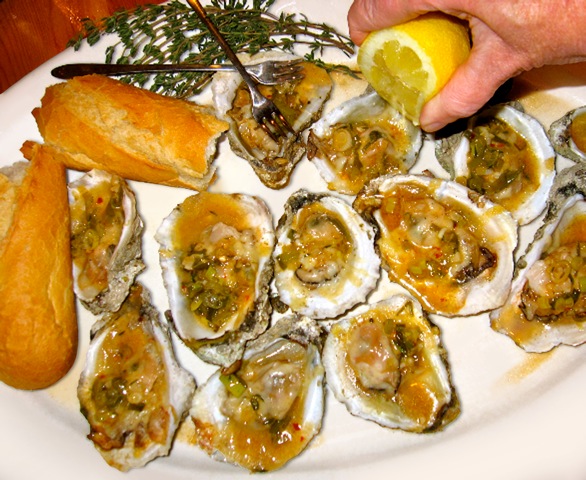 Peggy Lampman | Contributor

Looking for ideas for the upcoming holidays? Consider clicking the holiday cookbook :
How do I love thee, dear oysters? Let me count the ways. I love thee on the half shell with freshly grated horseradish, smoked over burning embers, baked on a bed of garlicky spinach, pan-fried in cornmeal or tempura. (And those are just the starters.)
No doubt, I'm an oyster fan — always have been. It seems there's no middle ground with these babies; either you love 'em or despise 'em. Woody Allen, for instance, falls into the latter category. According to the website, foodreference.com, he's quoted as saying, "I will not eat oysters. I want my food dead. Not sick, not wounded, dead."
Ernest Hemingway, in "A Moveable Feast," romanticized the inscrutable bivalve, writing, "As I ate the oysters with their strong taste of the sea and their faint metallic taste that the cold white wine washed away, leaving only the sea taste and the succulent texture, and as I drank their cold liquid from each shell and washed it down with the crisp taste of the wine, I lost the empty feeling and began to be happy and to make plans."
I'm quoting oyster extremists. But perhaps I'm mistaken; perhaps there is a middle ground. You may be an oyster waffler, unsure about your relationship with this inimitable mollusk. If you fall into this category, consider this: Oysters, loaded with zinc, potassium and omega-3 fatty acids, deliver a whopping nutritional punch.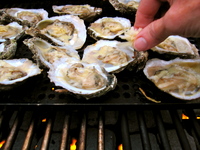 Though I haven't found any scientific data to back up its reputation as an aphrodisiac, oyster lore is replete with its amorous properties. Casanova is said to have eaten 50 raw oysters each morning for breakfast and, according to the website www.allaboutstuff.com, is said to have pronounced them "a spur to the spirit and to love."
Still not convinced? According to the website www.justmeans.com, "Oysters may just be one of the most sustainable seafood options out there. Oyster farmers don't need to use pesticides or antibiotics to keep their oysters healthy, nor do the oysters need to be given food. All in all, oysters, along with certain types of clams, mussels and other bivalves, are very well-suited for farming ... have very low impact on their habitat, and are plentiful."
One way to ease into oysters is by first enjoying them cooked. The following recipe is adapted from a favorite grilled oyster recipe served at New Orleans' Acme Oyster House. I purchased Apalachicola oysters from Florida, and my brother agreed to shuck them if my sister-in-law grilled them and I made the sauce. Deal!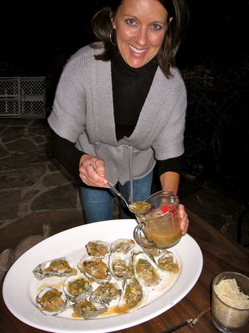 There are plenty of opportunities for oyster indulgence in Ann Arbor. Pull out a stool at the seafood counter at Monahan's and explore the intriguing oyster offerings. Or purchase them from the case and enjoy them on the half shell or in your favorite recipe at home. Whole Foods sells a nice variety as well. Feel free to shuck your own, but most fishmongers that sell oysters will shuck them for you, generally for a nominal fee.
One of the best oyster deals in town is happy hour at The Quarter Bistro; I've enjoyed delicious Oysters Rockefeller discounted Monday through Friday from 3 to 6:30 p.m. in its tavern. Zingerman's Roadhouse always has a wide selection of oyster offerings to explore, generally listed on a chalkboard in the restaurant. Making a dinner of oysters on the half-shell at The Real Seafood on Main Street is another favorite oyster haunt.
One of my finest evenings, this holiday season, was spent at a Zingerman's Roadhouse wine and oyster dinner. My son, Zan, provided some of the entertainment, reciting his four-stanza original "sonnetish" in praise of the oyster. With his permission, I'm penning the first stanza:
"My nectar, my love, my salt-fill, my fluid,
My substantive amour and my whistle-wetting druid,
'Tis not your shelled housing but how it well treateth,
Hospitably so, the meats I oft eateth."
This oyster fetish of mine is, no doubt, genetic. I've observed in other family trees, as well, the oyster doesn't fall far from the shell.
A freshly baked baguette, essential for mopping up the savory oyster juices, a crisp white wine, and a copy of "The Moveable Feast" (for inspiration) would be appropriate oyster accompaniments. Happy New Year!
Yield: 4 dozen medium-sized oysters (1 1/2 cups sauce)
Ingredients
1/4 pound (1 stick) unsalted butter
5 scallions, white and light green parts only, washed and thinly sliced
1 1/2 tablespoons minced garlic
1 tablespoon Creole seasoning
2 tablespoons lemon juice
1 tablespoon Worcestershire sauce
1/4 cup dry white wine
1 tablespoon finely chopped fresh thyme leaves
1/4 teaspoon crushed red pepper flakes
4 dozen freshly shucked oysters, on the half shell with their liquor (juice)
2 cups grated Romano cheese
4-5 cups rock salt (if baking)
Directions
1. Melt butter over medium-low heat in a medium-sized saucepan. Add scallions and cook, stirring occasionally, 4 minutes or until just tender. Add garlic and Creole seasoning and cook an additional minute.
2. Add lemon juice, Worcestershire sauce, wine, thyme and pepper flakes to pan. Simmer gently until wine is slightly reduced, about 5 minutes.
3. Remove from heat and cover pan, to retain warmth.
4. If using oven: Preheat oven to 400 degrees. Place 4 cups rock salt on a sheet pan with sides and spread evenly. Set oysters atop the salt and place on middle rack of oven. Do not jar oysters and keep as much oyster liquor in shell as possible When the oyster liquor starts to bubble slightly, after 6-8 minutes, remove from oven and divide Romano over oysters. Return to oven and continue baking until cheese has melted and oyster edges are beginning to brown, about 2-3 minutes. Remove from oven, divide and spoon Creole sauce over oysters, and serve.
If using grill: Preheat gas or charcoal grill to medium heat. Carefully place oysters on grill (using a grill pan is helpful); do not jar oysters and keep as much oyster liquor in shell as possible. When the oyster liquor starts to bubble, sprinkle Romano over each oyster. Let cheese melt. When oysters begin to slightly brown at the edges, remove. Spoon sauce over each oyster and serve.

Looking for a specific recipe? Click here for dinnerFeed's recipe search engine; type the recipe or ingredient into the search box!