Posted on
Thu, Mar 31, 2011 : 4:46 a.m.
Peggy Lampman's Thursday dinnerFeed: Rosemary-Balsamic Flank Steak, Asparagus and Potatoes
By Peggy Lampman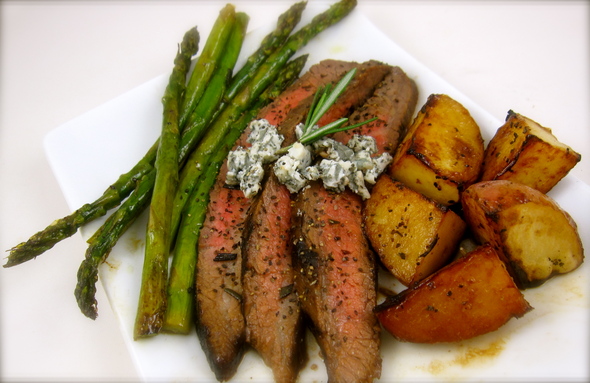 Peggy Lampman | Contributor

One Dressing Fits All!
Like a
One Size Fits All
label on a piece of clothing, I am appreciative of one dressing that can season several items on a plate. Redundant? It depends. Easy? You betcha.
If the dressing has a good bone structure, using it to season the entire menu is not as boring as you might imagine; the flavor profile reshapes itself according to the food and application.
To make the dressing (vinaigrette) for the following recipe, I used a top-drawer balsamic vinegar from Modena, Italy — vinegars made in New Jersey that tout themselves as balsamics are imposters and should be incarcerated.
I used a good extra virgin olive oil, though not a great one, as the heat of the oven and grill would obliterate intricacies and nuances of the more redolent oils.
Though the flank steak, potatoes and asparagus use the same dressing, they're all delicious and — no surprise — complementary. A good crumbled blue cheese — you don't need but a smidgen — is the piece de resistance. (Whole Foods has a marvelous selection of blues, and they are happy to give samples.)
It's that time of the year when local asparagus are poking their heads through the ground, and the grilling urge strikes. However, you could roast onions instead of asparagus and cook the steak under the broiler of your oven; the dressing and cooking times would be the same.
The keys to a juicy and tender flank steak are straightforward: marinate the meat at least a couple of hours, then cook it over high heat 4 to 6 minutes per side. Flank steak is best enjoyed rare to medium-rare; it's a lean cut of beef and the longer it's cooked, the tougher it becomes.
For those who prefer their meat well-done, I'd recommend a well-marbled (fattier) cut of beef, such as a Delmonico.
The recipe below amply serves two. Feel free to double the ingredients but if you do, use two cooking sheets, instead of one, to accommodate roasting the potatoes and asparagus simultaneously.
I dedicate the following recipe to "spd", a reader who posted a comment last week about success with another One Dressing Fits All Spanish-inspired menu. The reader replicated the recipe and wrote that they were pleased with the results. If any readers have other variations on this One Dressing Fits All theme, I'm all ears!
Yield: 2-3 servings
Marinate Time: 2-16 hours
Active Time: 25 minutes
Ingredients
1 teaspoon minced garlic
1/2 cup balsamic vinegar
1/3 cup extra virgin olive oil
3 tablespoons chopped fresh rosemary (or 1 tablespoon crushed dry)
3/4-1 pound flank steak
1/2 bunch (approximately 18) asparagus
3/4 pound redskin potatoes, washed and cut into 1 1/2-inch wedges
Crumbled blue cheese, optional
Directions
1. Whisk together garlic, vinegar, oil and rosemary. Season to taste with kosher salt and freshly ground pepper.
2. Place the steak in a large resealable plastic bag or nonreactive dish. Pour 1/2 marinade over meat and marinate 2-16 hours refrigerated, turning occasionally. Refrigerate remaining half of the marinade; you will use this to later season asparagus and potatoes.
3. Remove meat from marinade, pat dry and season both sides with kosher salt and freshly ground pepper. If time permits, allow steak to stand 1 hour at room temperature. Prepare grill to high heat.
4. Meanwhile, roll asparagus in 1 1/2 tablespoons marinade and toss potato wedges with remaining marinade. Lightly season with kosher salt and freshly ground pepper.
5. Adjust oven shelf to middle-upper level; Preheat oven to 425 degrees.

6. Place potatoes on a lightly oiled foil-lined baking sheet and roast 15 minutes. Remove from oven, toss and spread to one side of pan. Place asparagus on the other side and return potatoes and asparagus to the oven. Continue roasting 8-12 minutes or until potatoes and asparagus are tender. (If asparagus are extremely thin; they will cook faster than the potatoes. Adjust cooking time accordingly.)
7. While potatoes and asparagus are roasting, grill the steak 4-6 minutes (depending on the thickness of steak and heat of grill) on each side for medium-rare; flank steak toughens the longer it is cooked.
8. Allow the meat to rest 10 minutes before slicing. Slice the meat thinly across the grain at a sharp angle and serve with roasted asparagus and potatoes; garnished with blue cheese, if desired.
Looking for a specific recipe? Click here for dinnerFeed's recipe search engine; type the recipe or ingredient into the search box. I am a real-time food writer and photographer posting daily feeds on my website and in the Food & Drink section of Annarbor.com. You may also e-mail me at peggy@dinnerfeed.com.