Posted on
Thu, Feb 3, 2011 : 4:21 a.m.
Peggy Lampman's Thursday dinnerFeed: Beefy Super Bowl Sliders with Pimento Cheese
By Peggy Lampman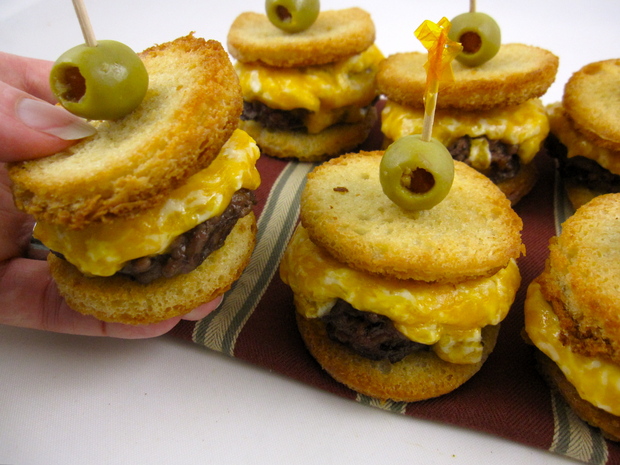 Peggy Lampman | Contributor

Dear Rach:

I don't care what Anthony Bourdain says about you; you're brilliant! I was brainstorming a recipe to enhance remote-driven activities for Super Bowl Sunday, and the Pimento-Cheese Sliders I saw in the Rachel Ray December Magazine was just the inspiration I needed. I switched it up, however; pimento cheese is a personal choice. I'm sure you understand.

Your fan, Peggy.
I switched it up a lot, in fact, simplifying the ingredients for the burgers and substituting my favorite pimento cheese recipe for Rachel Ray's pimento cheese sauce. I don't want to be in the kitchen cooking during the Super Bowl, especially during the commercials, so I prefer using my cheese spread, which may be made up to two days in advance.
I was raised in Alabama, where pimento cheese is as important to state pride as is college football. Growing up, I had a pimento cheese sandwich every day for lunch, which was my primary source of calcium and protein. I've tasted many versions of this spread through the years, some remarkable and some best forgotten. I am what I am today. It came as a shock when my mom shared the pimento facts of life — that they're actually a variety of sweet red chili pepper. I still prefer my version of the truth — that bottled pimentos are a special condiment used exclusively in pimento cheese recipes.
Pimento cheese can be as simple or as complex as palate and purse allow. A lot of pimento cheese out there is made with processed cheddar. I'm not dissing that, especially if it's the cheese your mom used, but I prefer the rich flavor a farmhouse cheddar provides. My favorite pimento cheese is also made with homemade, lemony mayonnaise. I included a recipe below. To save time, Hellman's would be a fine substitute, though many Midwestern palate's prefer the sweeter flavor of Miracle Whip.
There's plenty of pimento cheese in this recipe to accommodate two tablespoons per slider. This may be excessive for you, but I'd rather have too much pimento cheese than not enough. I stuff leftover pimento cheese into celery sticks, an appetizer that deserves more respect than it receives.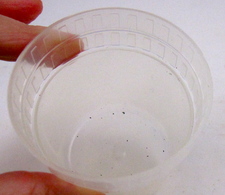 You can make these sliders smaller or larger, but the burger size should match the bread size. My stainless biscuit cutter was too small for my intended two-bite sliders, so I used the mouth of a plastic top found on a detergent bottle. (Stifle that gasp — before using, I sanitized it thoroughly.) You may save calories by omitting the butter brushed on the bread, if desired. These bread rounds, as well, may be toasted and saved in a cookie tin, two days before game day.
Craving the sliders but don't want the fuss? Zingerman's Roadhouse offers a 5-Burger Super Sampler ($19.50), which are five mini-burgers made from Niman Ranch beef. The assortment is topped with different cheeses, one being Zingerman's lip-smacking, signature pimento cheese spread. The Roadhouse is happy to top all of the sliders with pimento cheese, if that's what you're craving.
Hat's off, incidentally, to Zingerman's and Rachael Ray for taking this backwater, country cheese spread seriously, and giving it the star status it so richly deserves.
Yield: 12 sliders
Time: 45 minutes (including time to make pimento cheese)
Slider Ingredients
24 slices bread slices (I used Pepperidge Farm, original white)
2 tablespoons unsalted butter, melted
1 1/4 lb ground beef
2 tablespoons grated onion
1 teaspoon minced garlic
1 recipe for pimento cheese (see below)
12 olives
12 toothpicks
Directions
1. Preheat oven to 350Ëš.
2. With a 2 1/2- to 3-inch round biscuit cutter (or any round, sharp edged object), cut out 24 bread rounds. Line a cooking sheet with foil and arrange bread rounds over foil. Brush with melted butter and bake on middle rack of oven until golden brown, 5-7 minutes. Remove and reserve.
3. Combine beef with onion and garlic, and form into 12 patties. Liberally season both sides with kosher salt and freshly ground pepper. In a large, heavy-bottomed sauté pan, sear both sides until rare or medium-rare (they will continue cooking in oven).
4. Spoon pimento cheese over sliders and return to oven. Bake until cheese has just melted.
5. Place sliders on half of the toasted bread rounds and top with remaining bread rounds. Skewer the olives with toothpicks, insert into the center of sliders and serve.
Pimento Cheese Ingredients
Yield: 2 cups
Time: 15 minutes
1/3-1/2 cup of your favorite mayonnaise (homemade mayonnaise recipe below)
1-2 dashes Worcestershire sauce
1-2 tablespoons minced scallions
2-3 tablespoons diced pimentos with juice
1/2 pound cheddar cheese, grated
Cayenne pepper
Directions
1.Combine 1/3 cup mayonnaise with one dash Worcestershire sauce. Stir in 1 tablespoon scallion and 2 tablespoons of pimentos with juice and combine.
2. Stir in cheddar. Taste, then add additional mayonnaise, Worcestershire, scallions and pimentos as desired. Season to taste with cayenne and kosher salt.
3. Refrigerate 3 hours, stirring once to allow flavors to combine. May be made up to 48 hours in advance of serving.
Homemade Mayonnaise Ingredients
3 large eggs
3 cups canola or vegetable oil
3 tablespoons lemon juice
Dash Worcestershire sauce
Cayenne pepper
Directions
1. Place eggs in food processor bowl or blender. Add 1/4 cup oil.
2. Turn on processor or blender and slowly pour remainder of oil into bowl, in a slow, steady stream. Turn off processor and add lemon juice and Worcestershire sauce to bowl. Pulse to combine. Add kosher salt and additional Worcestershire and cayenne to taste. Refrigerate until ready to use.

Looking for a specific recipe? Click here for dinnerFeed's recipe search engine; type the recipe or ingredient into the search box. I am a real-time food writer and photographer posting daily feeds on my website and in the Food & Drink section of Annarbor.com. You may also e-mail me at peggy@dinnerfeed.com.