Posted on
Mon, Oct 31, 2011 : 9:30 a.m.
Hot Dog Mummy Babies are a Halloween classic
By Peggy Lampman
Peggy Lampman | Contributor

Peggy Lampman's Halloween dinnerFeed:
Processed pastry, manufactured meat…but hey - don't knock 'em till you try 'em. It's a pity to only reserve this recipe for Halloween; Hot Dog Mummy Babies are a classic.
And after gobbling a couple down a couple with the kids, ketchup and mustard dipping sauce at the ready, I'm thinking a down-scaled, adult version of mummy babies — Pigs in a Blanket — may be a great appeitizer for my next dinner party. (No one can accuse me of food snobbery.)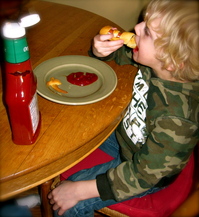 I did choose a reduced-fat frank to make the babies, although I'm not convinced it really matters.( I couldn't use a turkey or chicken sausage as the casing color would be too similar to the bandages.) Unless you or a reputable butcher make them, who really knows what they shove into those casings. Perhaps the kosher brands are the best bet.
Misgivings aside, my oh my, what a treat for Halloween!
I retrieved this recipe from the Pillsbury recipe site. When recreating the site's recipe, I deleted the cheese and used cloves for the eyes.
Yield: 10 babies Time: Dependent on the kid's dexterity wrapping bandages around babies
Ingredients
1 can (8-ounce) Pillsbury refrigerated crescent dinner rolls or 1 can (8-ounce) Pillsbury Crescent Recipe Creations refrigerated seamless dough sheet
10 large hot dogs
Cooking oil spray
Mustard or ketchup, optioonal
Directions
1 Preheat oven to 375 degrees.
2. If using crescent rolls: Unroll dough; separate at perforations, creating 4 rectangles. Press perforations to seal. If using dough sheet: Unroll dough; cut into 4 rectangles.
3. With knife or kitchen scissors, cut each rectangle lengthwise into 10 pieces, making a total of 40 pieces of dough.
4. Wrap 4 pieces of dough around each hot dog to look like "bandages," stretching dough slightly to completely cover hot dog. About 1/2 inch from one end of each hot dog, separate "bandages" so hot dog shows through for "face." On ungreased large cookie sheet, place wrapped hot dogs; spray dough lightly with cooking spray.
5 Bake 13 to 17 minutes or until dough is light golden brown and hot dogs are hot. Insert cloves for eyes or dot mustard onto "face" for eyes, although cloves must be removed before serving.
My new web site (packed with holiday recipes) is coming soon! But in the meantime, If you're looking for a specific recipe, click here for dinnerFeed's recipe search engine; type the recipe or ingredient into the search box. I am a real-time food writer and photographer posting daily feeds on my website and in the Food & Drink section of Annarbor.com. You may also e-mail me at peggy@dinnerfeed.com.