Peggy Lampman's Tuesday dinnerFeed: Kale, Sausage and Potato Soup
Posted on Tue, Nov 9, 2010 : 4:09 a.m.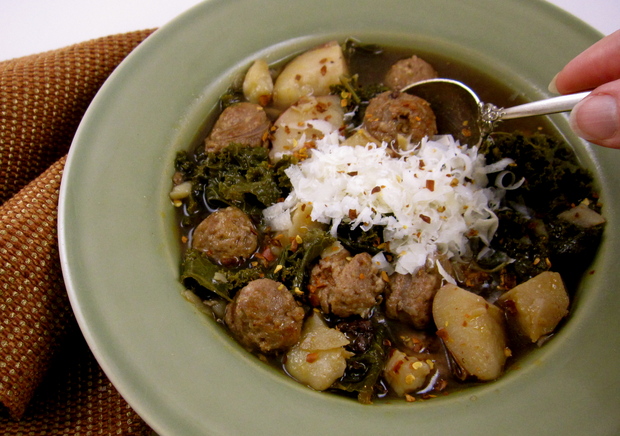 Peggy Lampman | Contributor

Looking for ideas for the upcoming holidays? Consider clicking the holiday cookbook :


The kale is the my last survivor in November's garden. Even after several nights of frost, it stands proud, stoic, ready to provide us one final meal.

This is a delicious brothy, peasant-styled soup; earthy and soul-satisfying. I purchased hot Italian uncooked brats (organic, locally produced Black Oak Farms sausage available at Arbor Farms) for the soup that lent a great deal of flavor.

I needed to use up my white potatoes which were fine, but I would have preferred the flavor and texture of Yukon Golds in this soup.

Yield: 4 main course servings
Time: 50 minutes (mostly unattended)
Cost: Approx. $13

Ingredients

1 tablespoon olive oil
1 pound (raw) bratwurst* Italian hot, cut into 1/2-inch coins
1/2 cup red wine
1 tablespoon minced garlic
10 cups vegetable, beef or chicken stock
1 large bunch curly leaf kale, woody stems and stalks removed, washed coarsely chopped
1 1/2-2 pounds red skinned potatoes, washed and cut into 1/2 inch pieces (7 cups)
2 teaspoons chopped fresh thyme (1/2 teaspoon dry thyme)
Red pepper flakes
Parmigianno Reggiano

*I used Black Oak Farms bratwurst

Directions

1. In a large heavy-bottomed pan or Dutch oven, heat olive oil to medium high heat.
Sear sausage until golden brown on both sides, about 2 minutes per side. Remove and reserve.
2. Deglaze hot pot with wine, stirring and scraping sides. Let wine reduce 2 minutes over high heat then turn heat to a low simmer. Stir in garlic and cook 1 minute. Stir in stock and kale. Cover and bring to a boil. When kale is boiling, reduce heat to simmer and simmer, uncovered, 30 minutes, occasionally stirring.
3. Add potatoes to pan, bring to a boil then reduce to a simmer. Simmer an additional 30 minutes or until potatoes are tender. Return sausage to pan and cook throughout.
4. Season to taste with kosher salt and red pepper flakes. Serve with grated Parmesan.


Looking for a specific recipe? Click here for dinnerFeed's recipe search engine; type the recipe or ingredient into the search box!