Posted on
Wed, Jan 26, 2011 : 4:08 a.m.
Peggy Lampman's Wednesday dinnerFeed: Pasta with Mussels, Chorizo and Fennel
By Peggy Lampman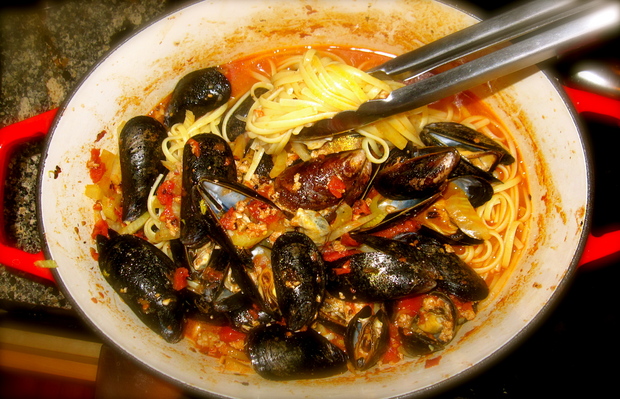 Peggy Lampman | Contributor

This dish is as quick and easy to make as it is delicious. I love spicy chorizo in this dish but any ground meat — even lean turkey — would be fine. Additionally, clams substituted for the mussels would yield a marvelous, briny flavor profile.
When treating myself, I add a tablespoon of unsalted butter to the oil. The sauce is divine but initially thin; the starch in the noodles thickens it after sitting a few minutes in the brew. Not in the mood for pasta? I've often made this exact dish eliminating the pasta.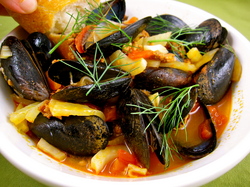 Don't forget the baguette; an essential component for mopping up this delicious sauce!
Yield: 4 main course servings if served over pasta
Time: 25 minutes
Cost: $15-$19 (mussels are often on sale, so cost varies accordingly)
Ingredients
12 ounces dry spaghetti or linguini
1/4 cup extra virgin olive oil
4 links (1 pound) uncooked chorizo sausage, sausage removed from casing
1 tablespoon minced garlic
1 large fennel bulb,cored and thinly sliced (reserve leafy fennel fronds for garnish)
1 teaspoon fennel seeds, optional
2 cups dry white wine
1 (28-ounce) can diced tomatoes
2 pounds mussels, scrubbed (discard any that will not close)
Directions
1. Bring a large pot of salted water to a boil. Cook pasta according to package instructions.
2. While pasta water is cooking, in a large sauté pan, heat the olive oil over medium heat. Add the sausage and break up with a fork.
3. When the sausage is browned, stir in the garlic, fennel seeds and sliced fennel and sauté an additional 3-5 minutes. or until the fennel is just transparent and slightly limp.
4. Add the wine and tomatoes and let simmer briskly for 5 minutes.
5. Add the mussels to the pan. Cover and cook until the mussels open (1-4 minutes). Combine mussels mixture and pasta in pan or spoon mussels and broth over pasta into serving bowls, discarding any that did not open. Sprinkle with reserved fennel fronds and serve.

Looking for a specific recipe? Click here for dinnerFeed's recipe search engine; type the recipe or ingredient into the search box. I am a real-time food writer and photographer posting daily feeds on my website and in the Food & Drink section of Annarbor.com. You may also e-mail me at peggy@dinnerfeed.com.