Peggy Lampman's Tuesday dinnerFeed: Shrimp and Chorizo Paella
Posted on Tue, Mar 29, 2011 : 10:37 a.m.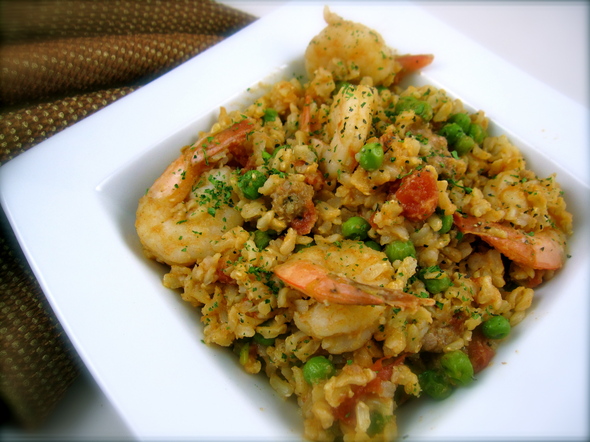 Peggy Lampman | Contributor

I can see you wincing at this recipe now — especially if you've eaten paella in Valencia or have taken the Zingerman Paella making class. The following recipe is not in the same league, but it is, by golly, a great, healthy, middle of the week recipe with appreciated flavors from Spain.

My husband and I are runners (if I can get away with calling my two-mile, three times per week shuffle a run) and get Runner's World magazine. I've blogged about many of their recipes and, frankly, am more inspired to cook than run when the magazine shows up in the mail.
This recipe is from Rocco Dispirito. My only change was doubling the amount of chorizo in the recipe which, I guess, is not maintaining the chiseled waistline spirit of Runners World — but using only half of one sausage made me want to cry.
Not in the mood to fork out your last paycheck for saffron? Substitute an equal amount of Spanish Paprika, and you will still have a delectable dish, with a Spanish flair as well. (Hint: Trader Joe's has Spanish Saffron for $5.99 for a 0.70 gram bottle-a pinch goes a long way.)
This recipe was adapted from Rocco Dispirito's Shrimp and Chorizo Paella found in the April edition of Runner's World magazine.
Yield: 4 servings
Active Time: 20 minutes
Simmer Time: 35 minutes
Ingredients
1/2-1 link chorizo sausage (raw), halved lengthwise and sliced into 1/4-inch half moons
2 teaspoon minced garlic
1 teaspoon saffron threads
1 cup long-grain brown rice
1 3/4 cups chicken stock, plus more if needed
1 (14.5 ounce) can diced tomatoes in juice
8 ounces raw, medium shrimp, shelled
3/4 cup frozen peas
Directions
1. Heat a Dutch oven over medium heat. Add chorizo and cook until the fat begins to render, about 2 minutes. Add garlic and sauté until fragrant, about one minute.
2. Add saffron, rice and stock. Cover pot and bring to a boil. Reduce heat and cook at a gentle simmer for 30 minutes. Stir in diced tomatoes and juices
3. In the last five minutes of cooking time, stir in shrimp and peas. Serve.
Looking for a specific recipe? Click here for dinnerFeed's recipe search engine; type the recipe or ingredient into the search box. I am a real-time food writer and photographer posting daily feeds on my website and in the Food & Drink section of Annarbor.com. You may also e-mail me at peggy@dinnerfeed.com.