Posted on
Wed, Nov 25, 2009 : 4:54 a.m.
Peggy Lampman's Wednesday dinnerFeed: Grilled turkey breast
By Peggy Lampman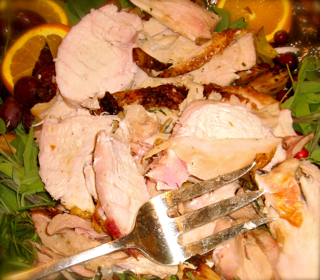 Peggy Lampman | Contributor
Like any circus performer worth their salt, I'm quite adept at juggling my one oven, outdoor grill and toaster oven when entertaining.
Thanksgiving is the one day of the year I drop the ball, lusting after that second oven to bake casseroles and pies as my turkey roasts. I don't like my menu dictated by oven capacity and am thankful grilled turkey is so easy and delicious.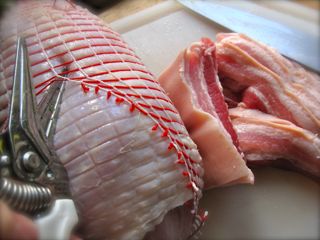 Peggy Lampman | Contributor
I have a lot of hungry mouths to feed and the grilled turkey breast will supplement my oven roasted turkey. This preparation couldn't be easier. There are only a few ingredients essential to the success: Kitchen twine, salt pork for fabulous flavor, and my most prized possession--my oven thermometer.
During the holiday season, search engines are well-lubed with "Cooking time recommendations" for turkeys. These, however, are merely guidelines and should be used to guide, not direct. I would no more be without my instant-read oven thermometer when roasting or grilling a turkey than ignore a jury duty summons.
The amount of fat, the presence or absence of bones, whether or not stuffing is a part of the recipe, and finally the quirks of individual ovens and grills can wreak havoc on these cooking time guidelines. The only sure method of determining doneness is with a meat thermometer. Additional Thanksgiving Day dinnerFeed Recipes:
Cranberry-Orange Relish and Mushroom Gravy Pear, Pomegranate and Pistachio Salad with Balsamic-Maple Vinaigrette Savory Spinach Stuffed Mushrooms Stuffed Acorn Squash with Wild Rice and Fruit Crispy Roast Turkey (includes video) Sweet Potato-Pear Soup Balsamic Portobellas stuffed with Mashed Potatoes Glazed Butternut Squash and Apples Roasted Brussels Sprouts Wild Rice Stuffing Yogurt and Fig Cake Roasted Garlic Mashed Potato and Mushroom Casserole Sweet Potato-Pecan Pie Root Vegetable Gratin
Yield: 8-12 servings Active Time: 15 minutes Grill Time: 45-90 minutes
Ingredients
1, 4 pound boneless turkey breast 1, 10-12 ounce piece, salt pork, cut into 1/3-inch slices
Directions
1. Prepare grill for indirect grilling. If using a gas grill, preheat grill then turn off middle burner.If using a charcoal grill, when coals are red hot, arrange coals on either side of grill with a drip pan in the center of coals. Add 1 cup water to drip pan. 2. Remove twine from turkey and discard pop up thermometer. 3. Unroll turkey breast, season flesh with freshly ground pepper, and place several pieces of salt pork in center of breast. Run fingers under turkey skin to loosen and place salt pork slices under the skin, leaving skin attached to breast. Roll turkey breast back together and secure with kitchen twine, at 1-inch intervals. 4. Place turkey breast on oiled grill over indirect heat; cover and grill, turning every 30 minutes, 12 to 20 minutes per pound or until meat thermometer inserted in thickest part of breast registers 160Ëš. The turkey will continue to cook after you turn off the grill, the ideal temperature for serving the turkey is 165Ëš. If using charcoal, additional coals may be needed to maintain the desired heat.
Visit me on dinnerFeed for more more seasonal recipes and local value. Mini-recipes daily fed to you on my dinnerFeed Twitters.