peggy lampman's thursday dinnerfeed
recipe:

Turkey Cutlets with Apple Cider Sauce is reminiscent of the smells and flavors of Thanksgiving

Posted on Thu, Oct 6, 2011 : 4:53 a.m.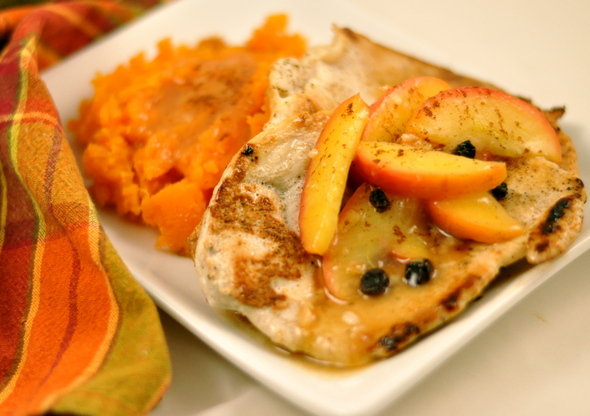 Peggy Lampman | Contributor

Peggy Lampman's Thursday dinnerFeed
Oh dear — we're approaching the threshold of the holidays. A time of year when appetites know no boundaries and good judgment regarding fat intake is the exception, rarely the rule.
Fortunately it's also sweater season, which covers the extra inch padding my girth. So I climb into my baggy pants (which make me feel thinner) and pad to the kitchen to inspect the fridge contents for dinner (and lunch and snacking) options.
I'm craving the smells and flavors of Thanksgiving — turkey roasting, mashed potatoes oozing with gravy, the sweet, tart and gingery tang of apple pie — but it's seven tortuous weeks away.
So I lie in wake, hunkered down, nibbling on a wedge of triple cream cheese. If the past is an indication of the future, these snacks will translate to a pound a week. And that's goes the same for my husband, Richard, if not more, as he's exposed to office treats.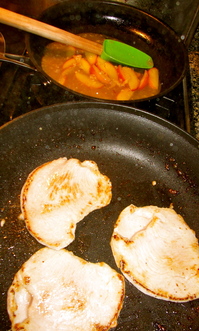 We are frank with one another, freely discussing the temptations from outside and within the marital compound. We've agreed to be supportive in our attempt to harness hand-to-mouth impulses. Richard also requested I avoid cooking with butter for the next few weeks, to bank calories for the Thanksgiving Day orgy.
I agreed, and created a recipe that would sate our holiday cravings using "healthy fats" , such grape seed and olive oil. It's also easy to execute — I'm lethargic after that quarter pound of brie and want to spend minimal time cooking.
The result is the following dish, mostly pulled from pantry staples and a thawed package of Jenny O turkey cutlets. It was delicious, and I'd encourage you to try it. But I'd best come clean — since I was referencing fats — and address that optional tablespoon of butter in the recipe below.
I tasted the sauce without the butter. It was good, but not off the charts; I knew what I had to do. Richard, head down, was sorting mail at the kitchen table. I opened the fridge and the interior light turned on. From the slit in the open door, I could see his reflection in the window pane: head still down.
I reached for my friend, the butter. Why pick on butter? Heck, butter's not bad — butter's good, and half a tablespoon would only be 50 all-natural calories. This recipe should serve three people, so that's only 16 or so calories per person.
I melted it into the sauce and tasted; ummmm....sublime. If I add another half tablespoon butter, it would even been better. But I refrained; a strong marriage is built on a foundation of trust, and I've already strayed.
I served these with mashed sweet potatoes; the sauce was a marvelous complement. And Richard, if you've made it this far into the blog, I apologize for my buttery infidelity. But I recall your lip-smacking sounds, and what should have served three, served two. Still — only 50 additional calories for us combined, and an exponentially better dining experience. If we continue eating like this, we can tighten our belts come December.
Yield: 6-8 cutlets (sauce accommodates up to 1 1/2 pounds of cutlets)
Time: 20 minutes
Ingredients
2 tart apples
1 cup apple cider

2 teaspoons cornstarch
1/8 teaspoon cinnamon, plus an extra pinch for garnishing over pork chops
3 tablespoons grape seed oil, divided
1 teaspoon finely chopped garlic
2 teaspoons finely chopped ginger
1 tablespoon currants
1/2-1 tablespoon unsalted butter, optional
1 - 1 1/2 pounds turkey breast cutlets (I used a package of Jenny O cutlets)
Directions
1. Wash and core apples. Slice each apple into 1/4-inch wedges. Whisk together apple cider, cornstarch and cinnamon. Reserve.
2. In a large sauté pan, heat 1 1/2 tablespoons oil over medium-high heat. Add the garlic and ginger and cook, stirring often so the garlic doesn't burn, until fragrant, 1-2 minutes. Stir in apple slices and cook, stirring, another minute. Add apple juice mixture. Bring to a low boil, reduce heat, stir in currants and cook until apples are just tender, about 3 minutes. Add desired amount of butter, if using, and season to taste with kosher salt and freshly ground pepper. (If using same pan to cook cutlets, pour mixture from pan, into another dish and reserve. Wipe excess sauce from pan with paper towels.)
3. Rinse cutlets and pat dry with a paper towel. Lightly season with kosher salt and freshly ground pepper. In the same or another large sauté pan, heat remaining oil to high heat.
4. Add as many cutlets as will fit in a single layer and cook until browned on both sides and just cooked through, about 2 minutes per side. Transfer to a plate and tent with foil to keep warm. Repeat with the remaining cutlets. Spoon cider sauce over the cutlets and serve.

My new web site (packed with holiday recipes) is coming soon! But in the meantime, If you're looking for a specific recipe, click here for dinnerFeed's recipe search engine; type the recipe or ingredient into the search box. I am a real-time food writer and photographer posting daily feeds on my website and in the Food & Drink section of Annarbor.com. You may also e-mail me at peggy@dinnerfeed.com.