Posted on
Fri, Mar 5, 2010 : 4:01 a.m.
Peggy Lampman's Friday dinnerFeed: Chopped chicken tostado salad
By Peggy Lampman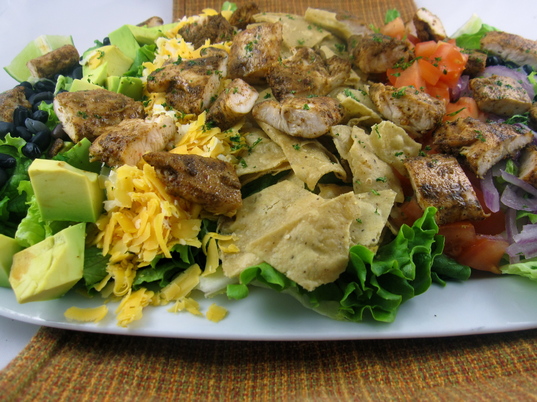 Imagine you're sitting at a beach-side restaurant in Mexico munching on freshly made tortilla chips with scratch-made guacamole and salsa - perhaps a tequila chaser on the side.
The sad reality is both of us are probably reading the paper or pecking away at our computers, watching the snow slowly melt into gray puddles.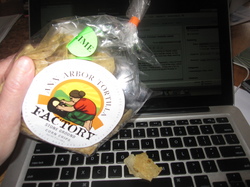 I, however, am brushing freshly made tortilla chip crumbs off my keyboard. I may not have the beach scene, but I'm enjoying authentic tortilla chips, practically out of the oven, which were recently made from scratch at
The Ann Arbor Tortilla Factory
.

These addictive chips are a far cry from the mass-produced items inhabiting an inordinate amount of square footage on grocery shelves.
You won't find a dictionary of ingredients on the back label on these babies. According to the Ann Arbor Tortilla Factory's Web site, the ingredients for these chips are: "White or yellow non-GMO corn, lime and water. We don't use bleachers, softeners, preservatives or colorants."
I'm thinking outside of the salsa bottle for tonight's dinnerFeed, using any chance I can get to enjoy these chips. A chopped, tossed salad sounds particularly appealing. A tostada generally refers to a flat or bowl-shaped fried tortilla, often salad ingredients fill these "bowls." Ann Arbor Tortilla Factory chips lend the flavorful crunch you'd enjoy from a tostado shell.
I love the food options in this town, even though we sometimes have to walk over broken glass (i.e. ice) to purchase them. If you know of any other small town in America's Midwest with a company making its own "scratch-made" chips, let me know.

You can find these addictive little devils in various flavors at most groceries in town. Chopped cilantro, sliced olives and corn kernels would be delicious tossed with this salad, too. To save time you may purchase a bottled Southwest-styled salad dressing.
Yield: 4 large salads
Cost: Approx. $14.50
Time: 40 minutes
Salad Ingredients
12 chicken tenders (apx. 1 pound)
2 tablespoons Southwest seasoning mix*
1 tablespoon grape seed, canola or olive oil
1 small head romaine lettuce, chopped (6 packed cups)
1 1/2 cups tortilla chips (apx. 4 ounces)
1 cup cooked black beans
1 large tomato, diced (1 cup)
1 avocado, diced
1/2 small red onion, thinly sliced (1/2 cup)
1 1/2 cups shredded cheese, such as cheddar, jack or a combination
*Pre-made taco seasoning or a combination of ground cumin, chili powder, kosher salt and cayenne.
Dressing Ingredients
2 tablespoons lime juice
1 cup sour cream (low-fat is fine)
1 teaspoon Southwest seasoning mixture
1 teaspoon minced garlic
1 (canned) chipotle pepper, chopped* (1/2 tablespoon)
*I always freeze the remaining peppers in individual baggies.
Directions
1. Cut off white tendon from end of tenders and discard. Toss chicken strips with 2 tablespoons seasoning mix.
2. In a large sauté pan, heat oil over medium heat. Add chicken tenders and sauté until cooked through, 3-4 minutes on each side. When cool enough to handle, cut into bite-sized pieces. Refrigerate until ready to compose salad.
3. On a large platter or in a salad bowl, arrange, layer or toss together lettuce, tortilla chips, black beans, tomato, avocado, onion, cheese and chicken.
4. Meanwhile, in a food processor or blender, process lime juice, sour cream, chopped chipotle and 3 tablespoons water until smooth.
5. Toss salad with dressing or serve dressing on the side.

Visit me on dinnerFeed for more more seasonal recipes and local value (recipe search engine on site.) Mini-recipes daily fed to you on my dinnerFeed Twitters.