Peggy Lampman's dinnerFeed
recipe:

Grilled Potatoes & Pattypan Squash

Posted on Wed, Aug 11, 2010 : 4:20 a.m.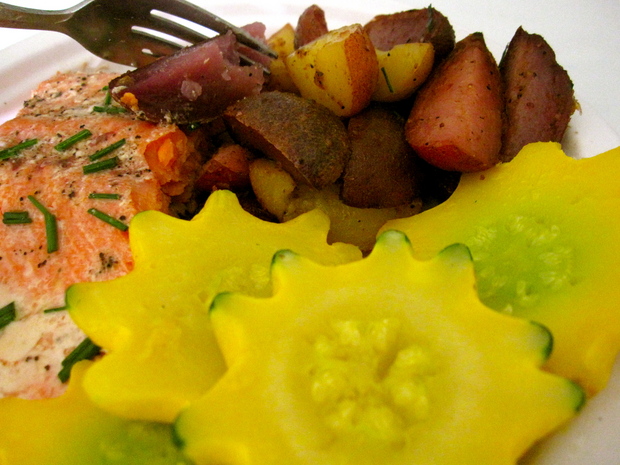 Peggy Lampman | Contributor

Decorated in designs of yellow and green, pattypan squash never cease to enchant. A new variety of pattypan squash, "Flying Saucers", caught my eye at the farmers market last Saturday. I gushed my enthusiasms to the grower while studying their shape; the stem tilted slightly off-kilter, as if contemplating a trajectory flight across the galaxy.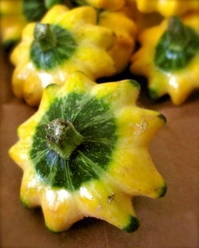 I never would have believed my rapt attention could provoke jealousy in Richard, my husband. But there he stood, bag in hand, square-jawed and dejected, as I admired the perfect symmetry of summer's most-prized specimen - bright yellow bursts of sunshine, edged in a complimentary shade of green. I purchased a dozen.
We moved to the next table featuring a panorama of baby purple and red-skinned yukon golds. My pulse quickened as I envisioned a bowl of tender, grilled potatoes, simply dressed with olive oil, butter and chives. I glanced at Richard. He looked sheepishly at the potatoes, embarrassed, perhaps, that his machismo had just been threatened by a squash.
I purchased a salmon fillet to complement the squash and potatoes and made one simple lemon sauce to douse over everything. The potatoes were small enough to grill whole, but they take 2-3 times as long to cook as the salmon; overall about 45 minutes, covered, over a medium fire.
Grilling several items with different cooking times requires a bit of finesse, especially when using a charcoal grill. When the potatoes are still firm but I'm able to penetrate their skin with a fork prong, I add a few more coals and soaked wood chips to the kettle drum, then cover the grill until it smokes.
I then grill the salmon, skin side down, with the kettle drum covered until the salmon is just cooked through. I didn't have enough grill space for the squash so I cut them, sandwich-style, through the center and steamed them while the salmon finished cooking. The salmon took about 20 minutes to grill and at that time, the potatoes were tender.
Yield: 3-4 servings Active Time: 20 minutes Grill Time: apx. 45 minutes
Ingredients
4-6 cups baby potatoes, assorted colored if available, washed 2 tablespoons butter 1/3 cup extra virgin olive oil Juice from 1 lemon 1/4 cup freshly snipped chives 1, 2-pound salmon fillet 1 dozen small pattypan squash, sliced in half, lengthwise
Directions 1. Heat a gas or charcoal fire to medium heat. 2. Place potatoes on a large sheet of foil. Fold over edges making a foil package to completely contain and cover potatoes; poke package with a fork in 3 places. Place on grill and cover. 3. In a saucepan, melt butter and combine with olive oil and lemon juice. If using wood chips, soak in water. 4. Place salmon on foil. Lightly season salmon with kosher salt and freshly ground pepper and brush with 1/3 of lemon sauce. 5. When potatoes are slightly firm when pricked with the prong of a fork, place salmon next to potatoes on grill. (Review last two paragraphs in above notes.) Cover grill and continue cooking until salmon is just cooked through or until desired level of doneness. 6. While salmon is grilling, bring a medium-sized pot of salted water to a boil. Steam squash, with a metal insert, or boil 3-4 minutes until squash is just tender. 7. Halve or quarter grilled potatoes. Drizzle remaining lemon sauce over potatoes and squash; seaon to taste with kosher salt and pepper. Serve with salmon and sprinkle potatoes and salmon with snipped chives.
Looking for a specific recipe? Click here for dinnerFeed's recipe search engine; type the recipe or ingredient into the search box!