Posted on
Wed, Jan 5, 2011 : 7:35 a.m.
Peggy Lampman's Wednesday dinnerFeed: Seared Sesame-Herb Scallops with Citrus Salad
By Peggy Lampman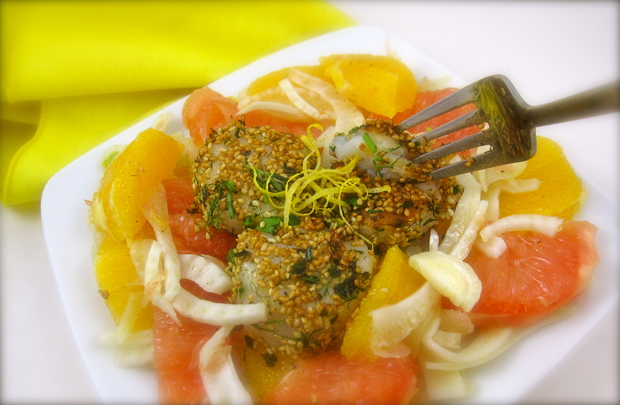 Peggy Lampman | Contributor

'Tis the season for grapefruit, plump yellow packages graciously sent up to us snowbirds from warmer locales. Their tart-sweet flavor and healthful properties are working overtime in my kitchen to combat the exigencies of the holidays.
I enjoy paring these beauties with seafood — this time last year I made a marvelous shrimp, spinach and grapefruit salad that needs to be revisited soon. I found and simplified the following recipe from a Rachel Ray recipe blog — her December magazine also included a Cod and Grapefruit recipe I'd like to try.
Here's a grapefruit blog link that provides you further information on the cultivation and handling of this fruit.
About those scallops — be forewarned. Searing scallops, especially when encrusted with seeds or nuts, can be a tricky business. If you fiddle with them in the first 1-2 minutes, the crust will fall off. Perfectly pan-seared scallops also depends on a very hot pan. Use a heavy cast-iron skillet, if available, or heavy-bottomed sauté pan which heats evenly. Warm the pan before you add the oil; this restaurant trick allows the pan to get really hot without burning the oil. A preheated pan also requires less oil. When searing I always use an oil with a high-smoke point, such as grape seed oil or refined canola oil. Smoke point refers to the temperature when the oil begins to break down.
Take consolation, my fellow Michiganders. If your plans don't include vacationing in a warmer climate, there's always grapefruit.
Yield: 2-3 servings
Ingredients
2 pink grapefruit; skin, pith and seeds removed, then cut sections from membrane
1 orange; skin, pith and seeds removed then cut into sections
1 fennel bulb, stalks and core removed and thinly sliced (3 cups)
Zest and juice from 1 lemon
2 tablespoons extra virgin olive oil
1 pound sea scallops
3 tablespoons fresh parsley leaves, finely chopped
2 tablespoons fresh thyme leaves, finely chopped
6 tablespoons toasted sesame seeds
2 tablespoons grape seed oil
Directions
1. Place grapefruit, orange segments and sliced fennel in a large bowl. Whisk together lemon juice and olive oil. Reserve zest and chop for later use. Season with kosher salt and freshly ground pepper. Gently toss salad with dressing and set aside.
2. Gently pat scallops dry with paper towels and lightly season on one side with kosher salt and freshly ground pepper. Combine parsley, thyme, sesame seeds and lemon zest. Coat each side of scallop with herb mixture.
3. Heat grape seed oil to medium high or high heat in large sauté pan. When oil is shimmering, sear the scallops until crust is golden brown on both sides and slightly translucent in the center.
4. Arrange reserved salad on plates. Place seared scallops on top of each salad and serve.

Looking for a specific recipe? Click here for dinnerFeed's recipe search engine; type the recipe or ingredient into the search box. I am a real-time food writer and photographer posting daily feeds on my website and in the Food & Drink section of Annarbor.com. You may also e-mail me at peggy@dinnerfeed.com.