Posted on
Wed, Mar 30, 2011 : 4:20 a.m.
Peggy Lampman's Wednesday dinnerFeed: Spaghetti with Fried Calamari
By Peggy Lampman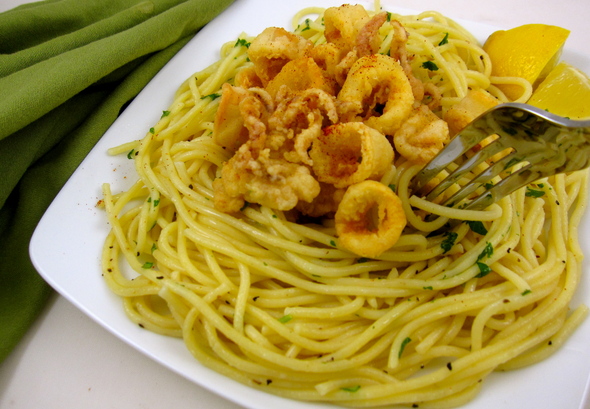 Peggy Lampman | Contributor

Fried
calamari
on a menu snares me every time — though other, more original, appetizers may beg to be tried, my eyes keep returning to the...
fried calamari
. Especially if it has some particularly exotic dipping sauce!
So when I saw this recipe for fried calamari over spaghetti in Bon Appetit from Italy's Amalfi Coast, it was a no-brainer; I had to make it.
Oh, it's fried all right... yes,the recipe even includes half a stick of butter. But yesterday I ate a reduced fat paella, a recipe from Runner's World Magazine, and life is about finding equilibrium, so I'm good — right?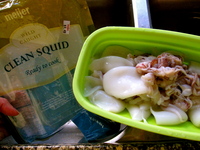 I got the squid in the frozen section of Meijers (one-pound pack for $3.49). At least a third of the package was tentacles, so keep that in mind; the recipe below says just to use the body. The tentacles, actually, are my favorite part, so I was happy to use them, but I understand I'm in the minority with this predilection.
Recipe Changes: The recipe calls for using a deep-fry thermometer — where did I put that dad-gum thing? No need, really. When a speck of flour sizzled merrily in the hot oil, I put the calamari into the pan; adjusting the heat through the cooking process to insure the oil was hot, but not smoking. If you have a thermometer, the recipe instructs to lean it on the side of the skillet, submerging bulb in oil. Heat oil over medium-high heat until thermometer registers 350 to 360 degrees.
I also decreased the pasta by a quarter pound, used the tentacles and doubled the kosher salt and cayenne in the batter.
The following recipe was adapted from the January edition of Bon Appetit.
Yield: 4 servings
Time: 50 minutes
Ingredients
1 1/4 cups all purpose flour
1/4 cup cornstarch
2 teaspoons kosher salt
1/2 teaspoon baking powder
1/2 teaspoon cayenne pepper
1 pound cleaned squid, cut into 1/4-inch-thick rings
2 cups olive oil
2 cups canola oil
3/4 pound spaghetti
1/4 cup (1/2 stick) unsalted butter, diced
3 to 4 tablespoons fresh lemon juice
1/2 cup chopped fresh Italian parsley, divided
Lemon wedges
Directions
1. Line rimmed baking sheet with several layers of paper towels. Whisk flour, cornstarch, 1 teaspoon coarse salt, baking powder, and cayenne pepper in medium bowl to blend. Working in batches, toss squid rings in flour mixture to coat, then place rings in single layer on sheet of foil.
2.Pour both oils into large skillet. When oil is hot but not smoking, and a speck of flour sizzles in the oil, working in batches, add squid rings to hot oil and cook until light golden and crisp around edges, 2 to 4 minutes per batch. Using slotted spoon, transfer squid to paper-towel-lined baking sheet to drain.
3. Meanwhile, cook pasta in large pot of boiling salted water, stirring occasionally, until just tender but still firm to bite. Drain, reserving 1 cup pasta cooking liquid. Return pasta to pot. Add butter and 3 tablespoons lemon juice and toss to coat pasta. Add 3/4 cup pasta cooking liquid and toss. Mix in 1/3 cup parsley. Season to taste with kosher salt and freshly ground pepper, adding more lemon juice and pasta cooking liquid, if desired.
4. Transfer pasta to large bowl; top with calamari. Sprinkle with remaining parsley. Serve with lemon wedges.

Looking for a specific recipe? Click here for dinnerFeed's recipe search engine; type the recipe or ingredient into the search box. I am a real-time food writer and photographer posting daily feeds on my website and in the Food & Drink section of Annarbor.com. You may also e-mail me at peggy@dinnerfeed.com.