Peggy Lampman's Friday dinnerFeed: Caldo verde (Portuguese kale and potato soup)
Posted on Fri, Jan 15, 2010 : 4:26 a.m.
Peggy Lampman for AnnArbor.com


Detox Resolution Recipe Series: Using whole grains, vegetables, lean meats and healthier fats in recipes you may find taste really good!



In the free-wheeling late-70s, my friend and I decided to use the book "Let's Go: Europe" that posed various travel itineraries for $5 a day. We followed the Mediterranean coastline keeping true to our budget. Eating Caldo Verde for a month on Portugal's Algarve Coast helped balance the coffers.

Recipes for Caldo Verde, like every beloved national recipe, have hundreds of variations. I would not suggest my version of this soup to be any more authentic than the rest. Particularly since I don't include sausage, especially the Portuguese liguica or chourico (chorizo), which is a primary ingredient in most traditional Caldo Verde recipes. Sausage would be perfectly delicious simmered in this soup, but my husband and I are back on track with our detox resolution, so substituted kidney beans for the sausage.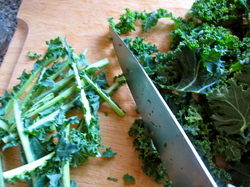 I'd love to use Portuguese kale (
Beira Tronchuda Cabbage
) in this recipe, but I've never found this locally. Probably, Tuscan kale would be the best substitute, but that was not available to me today.
Commonly found curly green kale is what I'm using, but note that cooking times for kale vary among varietals and palates. Some prefer it cooked just a few minutes. Usually, however, the winter green is simmered much longer to become soft and sweet.
In my version, the soup began life as a
vichyssoise
. I then altered the recipe adding seasonal turnips. I love the flavor of turnips with greens. Omit these if you wish, and substitute with additional potato.
I can't wait to return to Portugal. Watching my escudos, er - euros, I would most likely be pinched to keep the trip under $90 a day, even splitting the cost of a double room.
Yield: 9-10 cups
Time: 40-75 minutes (depending on how long you simmer kale)
Cost: approx. $10.
Ingredients
3 tablespoons olive oil

2 leeks, white and light green part only, diced (3 cups)

1 teaspoon minced garlic

2 large russet potatoes, peeled and cut into 1-inch chunks (5 cups)
3 small turnips, peeled and cut into 1/2-inch chunks (3 cups)
6 cups vegetable of chicken stock
1 (15 ounce) can kidney beans, drained and rinsed
1/2 pound kale, washed, trimmed, ribs removed and cut into thin strips 

Directions
1. In a large pot, heat the olive oil over medium heat.
2. Add the leeks and cook until they are translucent. Add the garlic and cook for 2 minutes.
3. Add the potatoes and stock, bring to a boil then reduce heat, simmering until the potatoes and turnips are tender, 20-30 minutes.
4. When the soup is cool enough to handle, purée it in the food processor and return to the pot. Add the greens and, bring return to a boil; reduce heat and simmer until the greens are cooked to your palate, 5-45 minutes. In last few minutes of cooking time, stir in beans.
Visit me on dinnerFeed.com for more more seasonal recipes and local value (recipe search engine on site.) Mini-recipes daily fed to you on my dinnerFeed Twitters.