Posted on
Tue, Nov 29, 2011 : 10:56 a.m.
Steve's Yin-Yang Cookies are a holiday cookie swap tradition
By Peggy Lampman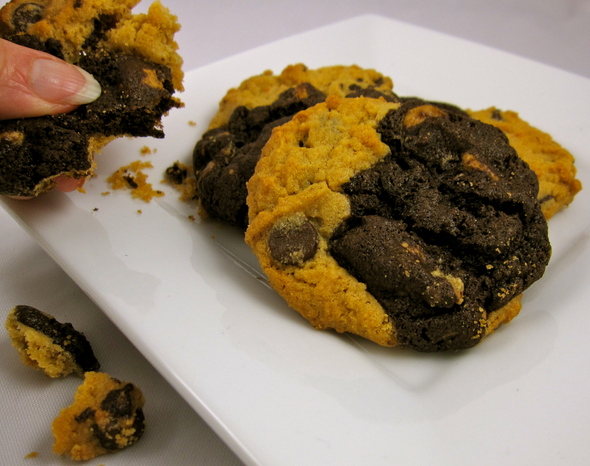 Cookie swap
season has begun! Here is a uniquely Ann Arbor cookie recipe from local bakemeister, Annamarie Asher, to kick things off.
I posted the blog two years ago, but it's a noteworthy cookie with a history; in short, a cookie recipe that should not vanish with time. If you're interested in reading more about Anna Marie, her son, Steve, and the genesis of the Yin-Yang Cookie, click here.
Otherwise, here's the recipe.
Yield: 4-5 dozen 3-4-inch cookies (note there will be peanut butter dough left over)
Active Time: 2 hours
Time required to chill dough: 2 hours and up to 24 hours
Bake Time: 10-15 minutes
Ingredients for Reese's Chewy Chocolate Cookie
2 cups all-purpose flour
3/4 cups Hershey's cocoa
1 teaspoon baking soda
1/2 teaspoon table salt
1 cup (2 sticks) unsalted butter
1 1/2 cups granulated white sugar
2 large eggs
2 teaspoons vanilla extract
1 2/3 cup (10 ounce package) Reese's Peanut Butter Chips
Ingredients for Peanut Butter Cookies
1 cup unsalted butter, softened
1 cup white sugar
1 cup packed brown sugar
2 large eggs
1 large egg yolk
2 teaspoons vanilla extract
1 (18 ounce) jar smooth peanut butter (Annamarie used the Jif brand)
2 cups all-purpose flour
1 teaspoon baking soda
1/2 teaspoon table salt
1-2 cups semi-sweet chocolate chips (adjust amount to your taste)
Directions
1. For the Chewy Chocolate Cookies: Stir together flour, cocoa, baking soda and salt. In large bowl, beat butter and sugar with electric mixer until light and fluffy. Add eggs and vanilla; beat well. Gradually add flour mixture, beating well. Stir in peanut butter chips. Form logs and chill 2 hours, and up to 24 hours. This is a stiff dough and the logs make it easier to break or cut into small cookie pieces.
2. For the Peanut Butter Cookies: In a large bowl, cream butter, white sugar, and brown sugar until smooth. Add the eggs, yolks and vanilla; mix until fluffy. Stir in peanut butter. Sift together the flour, baking soda and salt; stir into the peanut butter mixture. This dough is not as stiff as the chocolate dough and should be refrigerated in a bowl at least 2 hours and up to 24 hours.
3. Preheat oven to 350 degrees.
4. To make the yin-yang cookies: Take a small "blob" of the chocolate cookie dough, slightly less than 1 tablespoon. Hold this in your fingers, not on a spoon. Take a similar amount of peanut butter dough on a spoon and smear it on one side and under the chocolate dough "blob" you are holding. Place each dough combination on an ungreased cookie sheet.
5. Bake no more than 15 minutes; begin checking them after 10 minutes. They should be puffed and just beginning to firm up a bit; they will darken as they cool.
6. Cool on cooking sheet about 5 minutes. Remove from cookie sheet to wire rack. Cool completely. When storing these cookies, do not stack them too high or place them in a cookie jar as they may crumble. The "smearing" technique is to ensure you mold the peanut butter dough under the chocolate dough so the cookies stay in one piece.
style="width:200px; padding-bottom:0;">
src="http://www.annarbor.com/assets_c/2010/07/dinnerfeed-logo-thumb-200x54-4
7090.jpg" width="200" height="54" class="mt-image-left" style="float: left;
margin: 0 20px 20px 0;" />