Posted on
Wed, Oct 19, 2011 : 1:50 p.m.
Pepper-Onion Dip features beautiful fall colors and savory flavors
By Mary Bilyeu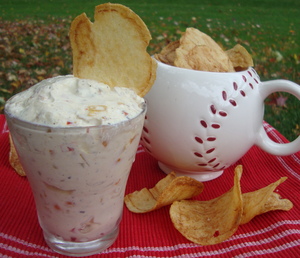 Mary Bilyeu, Contributor
I adore baseball — anyone who knows me can vouch for this.
So even though I don't watch television (no "Dancing with the Stars", no "Mad Men," nothing), having access to a TV is critical at this time of year. Having just moved into a place with no TV — either the physical entity or the service to provide the shows — I had to do something about this void.
I couldn't spend each afternoon or evening of the playoffs loitering in restaurants and bars just to watch the games. And I could hardly impose upon friends for a month's worth of watching all the various rounds, either. I had to act. I had to get a television and a satellite dish... and so I did.
So I got to watch my Yankees lose in the first round, I'm sorry to say. But they lost to the Tigers, and I've lived in Michigan for more than 30 years, so that was absolutely okay. The success means more to Detroit. New Yorkers are complacent and — shall we politely say? — arrogant, expecting their team to simply take it all. (Not Mets fans, of course, but ...!)
The Tigers, unfortunately, didn't make it to the World Series, which begins tonight. But the game will still be on at my house, more than likely, even though I could not possibly care any less about the two teams that have earned the honors. It's baseball, and a long drought awaits me 'til Spring Training. And it's mandatory to enjoy snacks while watching, especially when none of my chosen teams are playing; there has to be some consolation!
So today I'm offering an all-purpose chip dip recipe, which is appropriate for any occasion. With its red, yellow and orange peppers, it's not only flavorful but it features beautiful seasonal colors, too — perfect for the Fall Classic!
Pepper-Onion Dip
1 tablespoon butter
1/4 cup finely diced red pepper
1/4 cup finely diced orange pepper
1/4 cup finely diced yellow pepper
1 small onion, finely diced
pinch of kosher salt
pinch of freshly ground black pepper
1 cup sour cream
1 tablespoon Dijon mustard
In a medium saucepan, melt the butter over medium heat. Add the peppers and onion; cook for 5 minutes. Lower heat to medium-low, add salt and pepper, and cook the vegetables for 10 more minutes, stirring occasionally, until they are softened and lightly caramelized.
In a medium bowl, stir together the sour cream and mustard. Stir in the vegetables, cover and refrigerate overnight to let the flavors develop.
Makes 1-1/2 cups dip.

Mary Bilyeu has won or placed in more than 60 cooking contests and writes about her adventures in the kitchen. She was thrilled to have her post about Scottish Oatmeal Shortbread named as one of the daily "Best of the Blogs" by the prestigious Food News Journal.
Go visit Mary's blog — Food Floozie — on which she enthuses and effuses over all things food-related. Her newest feature is Frugal Floozie Friday, seeking fun and food for $5 or less ... really! Feel free to email her with questions or comments or suggestions: yentamary@gmail.com.
The phrase "You Should Only Be Happy" (written in Hebrew on the stone pictured in this post) comes from Deuteronomy 16:15 and is a wish for all her readers as they cook along with her ... may you always be happy here.