Posted on
Wed, Mar 14, 2012 : 11 a.m.
To celebrate Pi Day, make a peanut butter cream pie
By Mary Bilyeu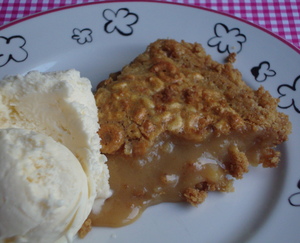 Mary Bilyeu | Contributor
Today is Pi Day — a cause for celebration!
If you can count off even a few digits of pi beyond the standard 3.14 that we mere mortals remember, today is your day. If you're a nerdy chick like me — who watches the National Spelling Bee, who actually read (and loved!) a book about a man who read the entire Oxford English Dictionary and who can still recite the Lord's Prayer in Old English after learning it decades ago — then you're in good company with other folks who are celebrating the cerebral.
And if you like pie — and who doesn't? — then we're all having fun today!
There are savory pies, sweet pies, pot pies, hand-held pies, double-crusted pies, graham cracker crust pies... an entire array. And they're all welcome to come to the party!
In honor of this auspicious occasion, I concocted a new recipe cobbled together after looking through many old ones. I mulled over the possibilities, but then simply worked with what I had in my pantry rather than schlepping to the grocery store for new and different ingredients.
Sometimes the path of least resistance is the one to follow.
This pie is rich and gooey, sweet and crunchy... it isn't particularly beautiful to look at, and yet it's simply sublime. Served with ice cream, it's a bit reminiscent of a sundae topped with thick caramel sauce, then made more decadent with peanut butter cookies and marshmallow rice cereal treats crumbled into the mix ... oh, yeah!
This Ooey Gooey Peanut Butter Cream Pie is an ideal treat for Pi Day. But if you're looking for a variety of temptations to serve, here are some other offerings for today's festivities:
Molly Goldberg's Lemon Meringue Pie
Ooey Gooey Peanut Butter Cream Pie
Crust:
1-1/2 cups sugar cookie crumbs
1/4 cup sugar
1/4 cup butter, melted
Filling:
1 egg
1/2 cup sugar
1/2 cup corn syrup
1 teaspoon vanilla
1/4 cup peanut butter (smooth or crunchy)
1 14-ounce can sweetened condensed milk
1 tablespoon flour
1/2 cup peanut butter-flavored Multi Grain Cheerios, lightly crushed (a fabulous marketing gift to play with!)
1 miniature Butterfinger candy bar, crushed
ice cream or whipped cream for serving, optional
Preheat oven to 350 degrees.
Combine the cookie crumbs, sugar and butter; press into a greased 10-inch pie plate, then refrigerate while making the filling.
In a large bowl, whisk together the egg, sugar, corn syrup, vanilla, peanut butter, and condensed milk. Stir in the flour, Cheerios and candy bar. Pour into the prepared crust and bake for 25 minutes until the filling is golden but still a bit wobbly when the pie is gently shaken. Let cool completely.
Cut into 12 slices and serve with ice cream.

Mary Bilyeu writes about her adventures in the kitchen - making dinner, celebrating holidays, entering cooking contests ... whatever strikes her fancy. She is also on a mission to find great deals for her Frugal Floozie Friday posts, seeking fabulous food at restaurants on the limited budget of only $5 per person. Feel free to email her with questions or comments or suggestions: yentamary@gmail.com.
You should also visit Mary's blog — Food Floozie — on which she enthuses and effuses over all things food-related.
The phrase "You Should Only Be Happy" (written in Hebrew on the stone pictured in this post) comes from Deuteronomy 16:15 and is a wish for all her readers - when you come to visit here, may you always be happy.