Posted on
Tue, Jun 25, 2013 : 11:50 a.m.
Pie zeitgeist (and businesses) growing in Ypsilanti and Ann Arbor
By Kim Bayer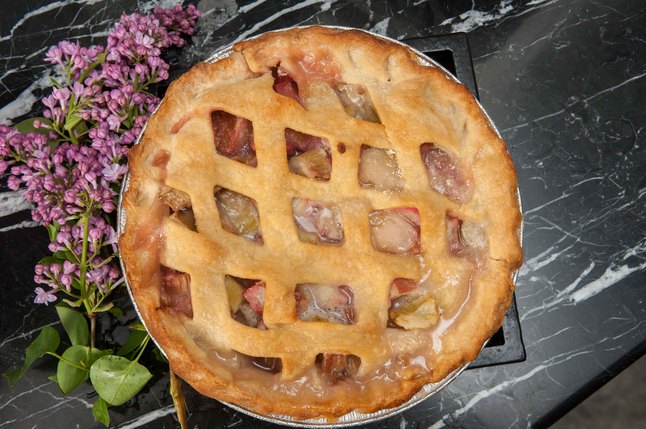 Photo courtesy of Doug and Diane Russell
Although I'm willing to sub for Team Cake, my heart is all in for Team Pie. For me, the world's best dessert is all about the delicate crust encasing warm sweet fruit.
In fact, I love pie so much that these past seven years I've organized Pie Lovers Unite!, the only event where I've ever seen 50 gorgeous homemade pies sitting on one table for everyone to share. Pie Lovers Unite! is a Slow Food Huron Valley event with pie music, pie prizes, and pie poetry that usually takes place in July at the Ypsilanti Ladies Literary Club. But this year we're shaking things up by experimenting with a date in the fall (Oct. 19 for any pie lovers out there).
Back when we started in 2006, Pie Lovers Unite! was about the only homemade pie game in town. But a recent article by Bob Needham pointed out an epic pie sharing quest by a local couple called "Pie It Forward" (that I had never heard of), and that got me thinking about a number of other homemade pie happenings and businesses(!) that are going on around here these days that everyone should know about.
For example, the Ann Arbor Civic Theater is hosting an A2 Pie Contest and fundraiser at Wolverine Brewing Co. on June 30. They've enlisted local bakers to bring their best pies for a chance to be named winner of the bake-off, and the public is invited to purchase tickets to try five different pies.
Of course Zingerman's, EAT, and The Lunchroom all have great pies, and if you love pie eating but pie baking not so much, you will be interested to know that your options have expanded even further. At least two local businesses now focus on making pies to order in Ann Arbor and Ypsilanti — and one even delivers!
In Ypsi, Theresa Rickloff's business is Riki Tiki Pies, "pies for the good guys." She's currently offering a spring menu that includes rhubarb custard, apple and chocolate pies, along with an asparagus, tarragon, and almond galette, and bacon/cheddar and bacon/apple hand pies.
Riki Tiki's website says "We're using seasonal ingredients, traditional recipes, imagination, and a lot of butter. Pies are currently available at Beezy's Cafe in Ypsilanti, the Downtown Ypsilanti Farmer's Market, and to order from this website." Deadline for ordering a whole pie is Monday for pick up on Friday. Rickloff made breakfast pies for the Local Food Summit earlier this spring and they were fantastic.
In Ann Arbor, Why Not Pie?, started by Janice Leach, is a Michigan Cottage Food Law success story. She says once the law allowing home preparation of non-hazardous foods passed, she was able to start up the little business that she had always dreamed of — with few expenses and little risk.
Leach describes Why Not Pie? as a "virtual bakery," where she sends out a weekly newsletter to several hundred subscribers describing the seasonal pies she'll be baking. Customers order by Wednesday for a pie delivery on Friday.
Erin Mann is one of those customers who orders for home enjoyment (she says Tripleberry is her favorite for the intense berry flavor), and she has also started a tradition they call "Pie Day Friday" at her downtown workplace. Mann says co-workers swoon for the Friday afternoon delivery time and "it's something to look forward to at the end of a long week. We affectionately refer to Janice Leach of WNP as 'the pie lady' when someone asks, 'What time is the pie lady coming today?'"
So if you don't already have one, consider getting a Pie Lady of your own. And remember these immortal words published by the New York Times in 1902: "Pie is the food of the heroic. No pie-eating people can ever be permanently vanquished!" Reason enough to join Team Pie.
------------------------------------------------
INTERVIEWS WITH THE PIE LADIES

JANICE LEACH
I was able to interview Janice Leach who is a writer, English teacher and master gardener as well as a baker (and occasional contributor to AnnArbor.com's Home & Garden section).
- When did you get started?
I've been a home pie baker for 30 years, but I started baking pies for sale in the summer of 2010. When Governor Granholm signed the Cottage Food Law, my sister dared me/ encouraged me to start a business baking and selling pies — something I'd be talking about doing for years because I like baking and I make a great pie.
- How/why did you get started?
The first summer, I sold pies to people at a campground. By fall, I started an email group of friends and co-workers who like pie. I emailed them each week to let them know what I was baking and took orders by reply email. My business has grown by word of mouth and some local advertising like in the SELMA Cafe newsletter.
- What is the mission/vision of Why Not Pie?
I like to describe Why Not Pie as a virtual bakery that makes freshly baked pies on demand and delivers them in the Ann Arbor area.
Everything I bake is handmade and homemade from scratch — no shortcuts — made for the customer who ordered it. I use high quality ingredients and try to incorporate locally sourced products.
- Can you describe how it works?
On Monday, I send out an email to the subscribers on my list and let them know what pies I'm baking that week. I always offer my signature pies, Peach, Tripleberry and Apple, as well as a Pie of the Week, like a Caramel Apple Pie or a Fresh Blueberry Pie, which is something special or seasonal. Customers who want to place an order send me a return email; I confirm it and let them know my delivery schedule. Generally, I bake on Thursday and deliver on Friday.
I also take special orders for other pies and other days. I have baked pies for events too, like graduation parties, meetings, and memorial luncheons. I am making pies for a wedding in September.
To join my email list, send a message to janice@whynotpie.com, and I'll keep you up to date on pies and order times. There's never any obligation to order.
- Can you say something about the importance of the Michigan Cottage Food Law for you?
I wouldn't have started Why Not Pie when I did, if not for the launch of the Cottage Food Law. It removed a lot of red tape and allowed me to start with virtually no cost and no risk, and I was able to concentrate on making pies and connecting with customers. The information on the State of Michigan website helped a lot, as did attending a Pittsfield Grange meeting on the Cottage Food Law. It was a great transition step for growing my business.
Why Not Pie.com has grown so much that this year I got a food establishment license from the Michigan Department of Agriculture and began baking out of a commercial kitchen. This development allows me to do catering and to expand my offerings.
- Do you try to use local or organic ingredients at all?
I love to bake with the Michigan apples that I purchase at the Farmers' Market, which wasn't possible last year when Wasem's had no apples. I'm really excited about this apple season! I made the rhubarb pies I sold with rhubarb grown using organic techniques in my own backyard. I especially love the supply of fresh local fruits that are available this time of year. I plan to offer more pies with larger percentages of local ingredients starting this fall. I'm continually impressed with the quality of individually frozen fruit that I use for baking in the off-seasons.
- What are your plans for the future?
I'll be participating in foodie events, like the Ann Arbor Civic Theater's upcoming Pie Fundraiser June 30 at Wolverine Brewing Co. I'm always interested in supporting local groups, especially arts groups. I'm writing a book about pies, which will have recipes, gorgeous photos and stories about pie as community. I'm working with a publisher and hope to have this ready by Thanksgiving.
- What are some upcoming pies?
Upcoming Pies of the Week will include a Fresh Strawberry Glaze Pie, Fresh Blueberry with Lemon Pastry Crust, Cherry Blueberry Crumb, and Fresh Blueberry Peach. Â In the fall, I'll make Apple Cranberry and Homegrown Pumpkin.
-----------------------------------------------
INTERVIEWS WITH THE PIE LADIES

THERESA RICKLOFF

Who is behind Riki Tiki Pies?
Myself, Theresa Rickloff. I started Riki Tiki Pies and like to call myself the head pie-maker in charge. I often have a friend or two helping me out.
What is the origin of the name?
"Riki Tiki Tavi" became an alias I started using rather randomly on Facebook a few years back. It's the name of the mongoose from The Jungle Book story of the same name. The story kept being relevant in my life, and the name started to stick. So when I started making pies, it was the name that made the most sense and kept coming out of my mouth, so ta da, Riki Tiki Pies became the name.
When did you get started?
Spring 2012.
How/why did you get started?
I've been employed at Beezy's Cafe in Ypsilanti for almost four years, and a year or two in I started talking with my boss, Bee Roll, about wanting to make pie for the cafe. About a year later, I finally made a pie for the shop. Then Comet Coffee's owner, Jim Saborio, tried my pies and wanted to start selling them out of Comet. At that point the ball was officially rolling, and I didn't want to stop it, so I've kept working at Beezys, and sneaking back at night to bake for Riki Tiki Pies.
What is the mission/vision of Riki Tiki Pies?
I see my abilities and my hands as a way of curating food grown in the area, as well as bringing in new, quality ingredients and new styles of pastries from other areas around the world (and sometimes just plumb from my imagination). During the growing season, for the most part, I try and develop recipes around the ingredients I can buy at the farmer's market. If I think somebody is growing something delicious, I try to get it and make it into a pie.
Can you describe how/where you make and sell your pies? I bake out of the kitchen at Beezy's Cafe, and pies are currently available at Beezy's and the Ypsilanti Downtown Farmer's market.
- Did the Michigan Cottage Food Law have an impact on you?
Not that I know of! Beezy's Cafe has a certified kitchen.
Do you try to use local or organic ingredients at all?
Yes and yes. I don't limit myself to local ingredients 100 percent, but I see myself as most helpful in the world's food chain if I function as an "encruster of local produce."
What are your plans for the future?
That's a great question. There's a lot of momentum for the pies right now, and if I find a way it can pay all the bills, I'd be looking to get a food cart or a kitchen separate from Beezy's to bake out of so that I can up my production. My far-off dream is to open a magical pie emporium, that's part bar and part floor show venue, centered around delicious bar food and crazy pies. But y'know... there's a lot of time and pathways to go through and take in order to get there.
What are some upcoming pies?
Well, after I answer this question I'm about to go make an army of strawberry rhubarb hand pies, and probably some pies with Andouille sausage that I just bought from Suchman sausages. It's so delicious that I've decided it needs to be celebrated in a pie. I can't wait for Michigan cherries to start cropping up so I can mix them with coffee to make cherry pies. And then the most beautiful Michigan produce pies will be in season soon, peach and blueberry — they're a sunset in a crust. Then, in a few weeks I'm going to start cranking out key lime pies. They're my favorite taste in the summer.
Do you have any good pie quotes?
Why yes! A lady at the market a few weeks back ate one of my hand pies, came up to me with a suspicious look on her face and said, "Y'know...there's something demonic about how good these are." I was very flattered, and then chuckled to myself about that for about a week. Then of course, Carl Sagan on pie: "If you wish to make an apple pie from scratch, you must first invent the universe." That's how it feels, sometimes.
Kim Bayer is a freelance writer and culinary researcher. Email her at kimbayer at gmail dot com.