Posted on
Fri, Dec 2, 2011 : 4:23 a.m.
Pig's Punch is a special cocktail perfect for the holidays
By Peggy Lampman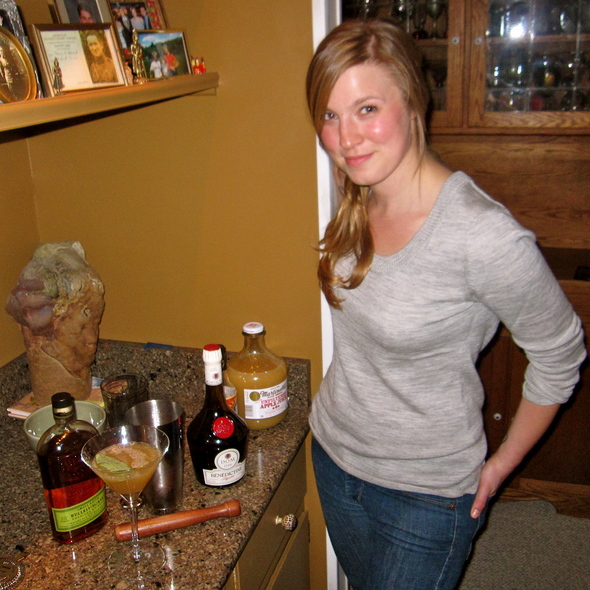 Peggy Lampman | Contributor

Here's a
drink
to whet your whistle from
Lucy Carnaghi
, a bartender at
Zingerman's Roadhouse
. Some folks think a family is lucky if it includes a doctor or lawyer in the brood. Maybe so, but I feel lucky that my son's dating Lucy, who made this special drink to kick off our
holiday
festivities.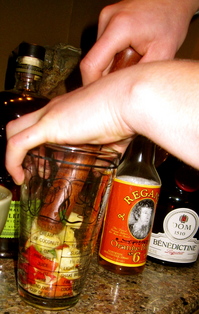 "I call this drink — and a variation I serve as the drink of the month at the Roadhouse — 'The Pig's Punch'...after my dog Piggy, and because I think it goes well with most pork dishes," says Lucy. "You could also call it 'The Pig's Punch No. 2' if you like."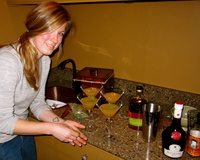 Lucy is also a poet; check out her website, The Hungry Pony. This drink is the perfect beverage to complement her musings.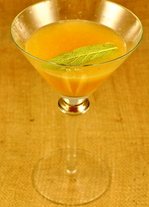 Note: I purchased the alcohol from Stadium Market. Accoutrements, such as a muddle and shaker, are also available there. Unfiltered apple juice is available at many grocery stores; I purchased some from Hiller's.
Yield: 1 drink
Ingredients:
1 ounce unfiltered apple juice or 4 slices of and sweet varieties of apple, muddled until nearly pulverized.*
4 sage leaves, plus additional for garnish
2 ounces Bulliet Rye (or any rye whiskey)
1/2 ounce Benedictine
4-5 splashes Orange Bitters (Reagan's Orange preferred)
1/4 ounce fresh lemon juice
1/4 ounce simple syrup, optional
* Muddling apples is time-consuming if making more than 2 drinks at a time.
Directions
1. If muddling the apples, muddle with the sage in the bottom of the shaker, then build the whiskey, benedictine, bitters, lemon juice and simple syrup, if using, over it. Otherwise, simply muddle sage in bottom of shaker, then build the drink using cider instead of muddled apples.
2. Shake hard with ice, then strain into chilled cocktail glasses or coupes.
3. Garnish with remaining sage leaves, by slapping each leaf between the palms of your hands, once, to express the oils (and to impress your bar guests!) Enjoy!
My new web site (packed with holiday recipes) has recently been launched. (www.dinnerFeed.com)! I'm a real-time food writer and photographer posting daily feeds on my website and in the Food & Drink section of Annarbor.com. You may also e-mail me at peggy@dinnerfeed.com.