Posted on
Thu, Jul 21, 2011 : 5:55 a.m.
Pimento and Bacon Macaroni and Cheese a fresh take on Southern cooking
By Jessica Webster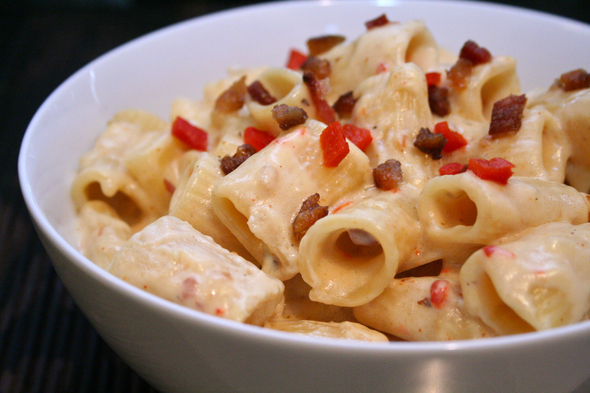 Jessica Webster | AnnArbor.com
Pimento cheese is emerging as one of the big food trends of 2011, and I couldn't be happier. Ever since my first taste of this Southern treat at a gathering of Ann Arbor food geeks a few years ago, I've been hooked. It's a simple dish with humble origins, but it's oh-so-good.
A recent Wall Street Journal article referenced this blossoming pimento cheese trend. Haute cuisine chefs are rediscovering classic Southern cooking, says Wall Street Journal author Katy McLaughlin, and updating the recipes with artisanal and international ingredients.
But why mess with something that's so delicious in its original, unimproved form? Give me a mix of sharp cheddar, mayo, cayenne and roasted pepper,s and I'll happily scoop it up with celery, add it to sandwiches, spread it on toast, or mix it with pasta for the most deliciously decadent mac and cheese ever.
I'll admit that I stole this idea — and the pimento cheese recipe — from Zingerman's Roadhouse. Among the Roadhouse's specialty mac and cheese options is their Pimento & Bacon Mac. It took me a while to get around to trying it, as hooked as I was on the smoked chicken and Monterey Jack mac, but when I did, I became obsessed with making it at home.
The good news is two-fold with this one. First, Zingerman's happily makes their pimento cheese recipe available. And second, if you're in a hurry, you can always purchase a pound of pimento cheese at Zingerman's Creamery.
I started with my standard macaroni and cheese recipe (adapted from Saveur magazine), and added pimento cheese, bacon and a touch more cayenne pepper. It was delicious. It's got a little bit of a kick, but it's mild enough that my picky 9 year old couldn't get enough of it.
Notes on preparation: I have found that it's a good idea to undercook the noodles just a little bit, since they will continue to cook once you have added them to the cheese sauce. There's nothing sadder than overcooked mac and cheese noodles.
If you like your dish a little spicier, amp up the cayenne pepper before you add the milk.
For a little bit of extra color and flavor, top the dish with diced roasted piquillo peppers.
Pimento and Bacon Mac & Cheese
Ingredients:
6 tablespoons butter
1 shallot, minced
6 tablespoons flour
3/4 teaspoon cayenne pepper
Salt and freshly ground white pepper
3 3/4 cups hot milk
1 pound pimento cheese (approximately)
1 pound short macaroni, undercooked by about 1 minute
6 strips of bacon, cooked and crumbled

Directions:
Melt 6 tablespoons butter with the minced shallot in a medium-large stainless-steel saucepan over low heat. Add flour and cook, stirring constantly, for about 4 minutes (flour mixture must foam as it cooks, or sauce will taste of raw flour).
Stir in cayenne and season to taste with salt and pepper. Whisk in hot milk, 1/2 cup at a time, and cook, stirring, until sauce thickens.
Reduce heat to low and stir in the cheese. Cook, stirring, until cheese melts, about 2 minutes.
Add pasta and stir until pasta is evenly coated. Remove from heat, stir in the crumbled bacon, and serve.
Zingerman's Pimento Cheese
Ingredients:
1/2 pound sharp cheddar, coarsely grated
1 cup mayonnaise
2 ounces by weight roasted red peppers, diced (about 1/4 cup)
3/4 teaspoon juice from the roasted peppers (if you're using jarred roasted peppers)
1/4 teaspoon coarsely ground black pepper
Scant 1/4 teaspoon cayenne pepper, or to taste
Pinch coarse sea salt

Directions:
Fold all the ingredients together in a mixing bowl. Mix well.
Jessica Webster leads the Food & Drink for AnnArbor.com. You can contact her via email at JessicaWebster@AnnArbor.com.