Posted on
Fri, Feb 1, 2013 : 4:50 a.m.
Beefy Sliders with Pimento Cheese perfect for football party snacking
By Peggy Lampman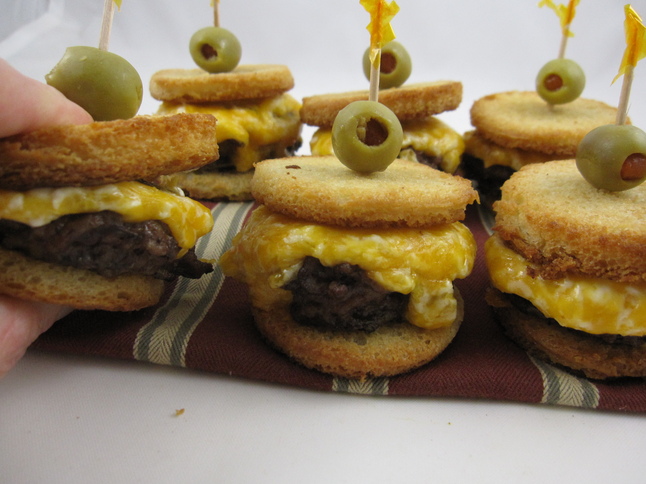 Peggy Lampman | Contributor

My dinnerFeed web site is a lean,
mean fighting machine!
To receive my lastest dinnerFeed posts
by email, sign up here.
I know chicken wings and chili are the most popular Superbowl snacks, but I dare you to resist these two-bite baby burgers topped with pimento cheese.
The following recipe was inspired by a Rachel Ray recipe; I switched it up by using my own pimento cheese recipe and simplified the ingredients for the burgers. Any recipe for burgers would be fine — a turkey burger with chopped olives, perhaps? To simplify things further, purchase a container of pimento cheese spread from Zingerman's — use the extra to stuff in celery sticks.
Click here for additional Entertaining Superbowl Recipes.
Time: 45 minutes (including time to make Pimento Cheese)
Number of servings (yield): 12 sliders
Ingredients for Sliders
24 slices bread slices (I used Pepperidge Farm, original white)
2 tablespoons unsalted butter, melted
1 1/4 pound ground beef
2 tablespoons grated onion
1 teaspoon minced garlic
1 recipe for Pimento Cheese (see below*)
12 olives
12 toothpicks
Instructions
1. Preheat oven to 350 degrees.
2. With a 2 1/2-3-inch round biscuit cutter (or any round, sharp edged object), cut out 24 bread rounds. Line a cooking sheet with foil and arrange bread rounds over foil. Brush with melted butter and bake on middle rack of oven until golden brown, 5-7 minutes. Remove and reserve.
3. Combine beef with onion and garlic and form into 12 patties. Liberally season both sides with kosher salt and freshly ground pepper. In a large, heavy-bottomed sauté pan, sear both sides until rare or medium-rare (they will continue cooking in oven.)
4. Spoon pimento cheese over sliders and return to oven. Bake until cheese has just melted.
5. Place sliders on half of the toasted bread rounds; top with remaining bread rounds. Skewer the olives with toothpicks, insert into the center of sliders, and serve.
Ingredients for Pimento Cheese
Yield: 2 cups
1/3-1/2 cup your favorite mayonnaise
1-2 dashes Worcestershire sauce
1-2 tablespoons minced scallions
2-3 tablespoons diced pimentos with juice
1/2 pound Cheddar cheese, grated
Cayenne
Instructions
1. Combine 1/3 cup mayonnaise with one dash Worcestershire sauce. Stir in 1 tablespoon scallion and 2 tablespoons of pimentos with juice and combine.
2. Stir in cheddar. Taste, then add additional mayonnaise, Worcestershire, scallions and pimentos as desired. Season to taste with cayenne and kosher salt.
3. Refrigerate 3 hours, stirring once, to allow flavors to combine. May be made up to 48 hours in advance of serving.
Peggy Lampman is a real-time food writer and photographer posting daily feeds on her website and in the Food & Grocery section of Annarbor.com. You may also e-mail her at peggy@dinnerfeed.com.