Posted on
Thu, Dec 15, 2011 : 11:59 a.m.
Pimento Cheese with Creme Fraiche and Bacon an easy crowd-pleasing appetizer
By Peggy Lampman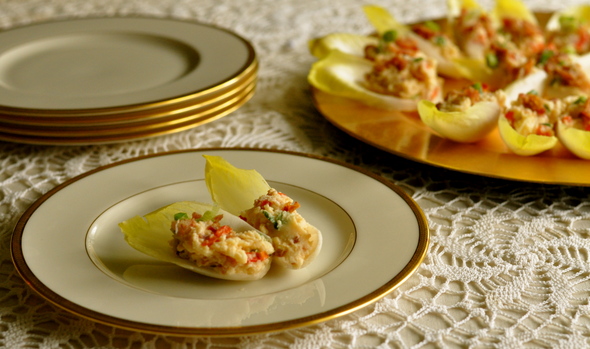 Peggy Lampman | Contributor

I'm pondering the crazy cosmic irony that suggests Thanksgiving and Christmas are times of peace and tranquility; especially when they collide like a comet into Jupiter. Whether your holidays are spent in altruistic pursuits, creating clever greeting cards, stitching needlepoint pillows resembling your friends pets, or — sigh — cooking, you barely get a breather before the next onslaught.
I take full responsibility for my situation, having branded myself as someone who "loves to cook" many years ago. My family now associates the holidays with a galaxy of home-cooked specialties, lovingly made by yours truly. But when I started these traditions I was much younger — I had energy. Back then I poo-poo'ed help in the kitchen, wanting full control of my menu. In short, I created a monster, and she's penning these words.
But this year I'm back in the saddle, grabbing the bull by the horns, and reaching deep into my bag of tricks, way deep: I'm asking for assistance from my family. And I'm shoveling down, elbows into the soil, unearthing backwoods family recipes; down-home Alabama fare that deserves a facelift.
As I riffle through files, my criteria is that the dish can be made well in advance, satisfies a slew of palates, and won't break the bank in an economy that reeks to high heaven. And what did I pull out? Pimento Cheese.
And here you'll find her, all decked out for the holidays. I used the best sharp Cheddar I could find, substituted creme fraiche for mayo, roasted my own red peppers (instead of using bottled pimentos), and added bacon — the piece de resistance. I spooned the spread into endive leaves but placing in a bowl and serving it with crostini is a fine idea as well.
I hesitated before sharing yet another recipe for pimento cheese; so much has been written about this iconic Southern cheese spread. But I'm convinced this town wants more. Ann Arbor, indeed, has usurped the South in its affection for the venerable cheese concoction. We can claim pimento cheese as one of our own.
Don't believe me? Google it. Southern Living doesn't pop up. Paula Deen doesn't pop up, although she's third in line. I am thrilled to report that our very own Zingerman's Roadhouse is second in line under Wikipedia (and Wiki beats everyone).
Thousands of Cora Bell's and Aunt Sissy's Pimento Cheese blogs lie in their wake, but the Roadhouse reigns king. There's a reason why my hometowns are Birmingham, Ala. and Ann Arbor, Mich., and I've determined it's because of pimento cheese.
This recipe solves my dilemma regarding what to serve as an appetizer for Christmas dinner. It's a cinch to make, a crowd pleaser and it may be made three days in advance. Spoon into endive leaves, if using, a couple of hours before serving.
Using creme fraiche instead of mayonnaise renders a much lighter and ethereal nosh and the bacon, well, it goes without saying. However, If you'd prefer a vegetarian offering, substitute toasted pecans for the bacon.
Requesting my kids bring a dish to pass, however, was greeted with blank stares. Indeed, my son replied, "Make sure we have that layered shiitake and potato dish. You forgot it last year."
Serve with sliced bread, crackers, inside celery sticks or endive leaves (as pictured).
Yield: 2 cups (packed) pimento cheese
Time: 30 minutes (noting that making creme fraiche from scratch takes 24 hours)
Ingredients
3/4 cup (8 ounce container) creme fraiche*
1/2 cup diced roasted red pepper (from 1/2 large red pepper)
4-5 pieces fried bacon, chopped
2 tablespoons minced scallions, plus scallion rings for garnish
1/2 pound extra sharp Cheddar cheese, freshly grated
Pinch or more cayenne pepper
*Creme Fraiche may also be made by whisking together equal parts of sour cream and heavy cream. Cover and let sit at room temperature, stirring twice, 24 hours. Refrigerate until ready to use.
Directions
1, Combine creme fraiche with diced roasted pepper. Stir in bacon, scallion and cheese. Combine well. Season to taste with cayenne pepper and kosher salt, if desired.
2. Refrigerate 3 hours to allow flavors to combine. May be made, with the exception of scallions, up to three days prior to serving. Stir in scallions the day you plan to serve. Best served at room temperature.
My new web site (packed with holiday recipes) has recently been launched. (www.dinnerFeed.com)! I'm a real-time food writer and photographer posting daily feeds on my website and in the Food & Drink section of Annarbor.com. You may also e-mail me at peggy@dinnerfeed.com.