Posted on
Mon, Feb 18, 2013 : 10:57 a.m.
Pizza with Grilled Artichokes, Garlic-Spinach & Feta - keep crust cool to lessen the mess
By Peggy Lampman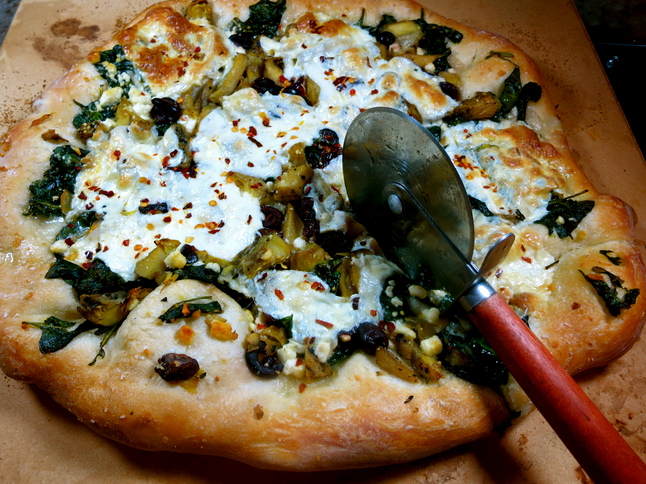 Peggy Lampman | Contributor

My dinnerFeed web site is a lean,
mean fighting machine!
To receive my lastest dinnerFeed posts
by email, sign up here.
I've blogged several times about home pizza construction, but I've never addressed the importance of not letting your pizza dough get warm before it's slid onto the pizza stone, which would affect the "slide" effect. Confused? Let me explain.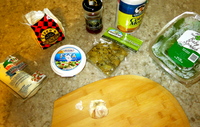 I always assemble my pizza on a cornmeal-dusted pizza peel, then — after assembling the ingredients on the canvas — I slide it from the peel onto the hot pizza stone in the oven. If the dough is warm, it could stick to the peel and cause a big mess when you're trying to slide it into the oven. The dough could stick to the peel, but the toppings will move forward, sliding onto the stone minus the dough. Not good.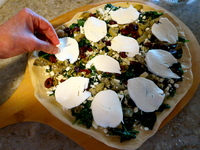 I'm speaking from experience, having been on the "learn while you burn" plan most of my life. For instance, the first time I experimented with the following recipe, I put warm garlic spinach on top of the pizza dough, causing the pizza dough to warm up and stick to the peel. When trying to slide the pizza onto the stone... well, by now you can tell what happened.
Therefore, if you decide to make this recipe — and you really should, it's delicious — make sure you chill your garlic spinach before spreading it across the doughy canvas.
BTW: I purchased the "Monterey Farms Artihearts" grilled artichoke hearts from Hillers. They've a meaty, grilled essence of artichoke flavor, which I especially love chopped and strewn across pizza.
Yield: 4 servings
Time to thaw dough (if frozen): 2-5 hours depending on size
Active time: 30 minutes
Bake time: 17-20 minutes
Recommended equipment: Pizza stone and paddle
Ingredients
2 tablespoons extra virgin olive oil plus extra for brushing on pizza edge
1- 1 1/2 tablespoons finely chopped garlic
5 ounces baby spinach, washed and spun dry
Cornmeal for dusting
1 (16-20) ounce ball frozen pizza dough, thawed (I generally use Tseo's brand)
1 (6 ounce) package Monterey Farms Grilled ArtiHearts*, sliced
2-3 ounces crumbled feta
12-16 (depending on size) pitted Kalamata olives, sliced
8 thin slices fresh mozzarella
Red pepper flakes
*Canned or marinated artichoke hearts, drained and chopped, may be substituted from the grilled.
Directions
1. Heat olive oil over medium heat in a heavy-bottomed saute pan. Cook garlic a minute or two or until fragrant; stir in spinach and continue cooking, stirring, until spinach is barely wilted, about 1 minute. Remove from pan and refrigerate.
2. Dust pizza stone with corn meal then place cold pizza stone in oven; preheat oven to 420 degrees.
3. Place thawed dough on a pizza peel that has been dusted with cornmeal; pull edges of dough out slightly and let dough rest 15 minutes, or according to package instructions. While dough is resting, assemble ingredients.
4. Stretch dough into a large 10-12 inch oval, circle or rectangle. ( I prefer a a thin crust, so stretch it thin.) Arrange chilled garlic spinach over top of pizza, then sprinkle artichoke hearts, feta and olives over top. Arrange mozzarella over pizza, then brush edges of exposed crust with olive oil.
5. Shake pizza gently on peel to insure it slides, then carefully slide pizza from pizza peel onto hot pizza stone and bake pizza until crust is golden brown, about 17-20 minutes.
Peggy Lampman is a real-time food writer and photographer posting daily feeds on her website and in the Food & Grocery section of Annarbor.com. You may also e-mail her at peggy@dinnerfeed.com.