Posted on
Wed, Mar 6, 2013 : 8 a.m.
Poblano pepper soup with potatoes is warm and comforting in snowy weather
By Mary Bilyeu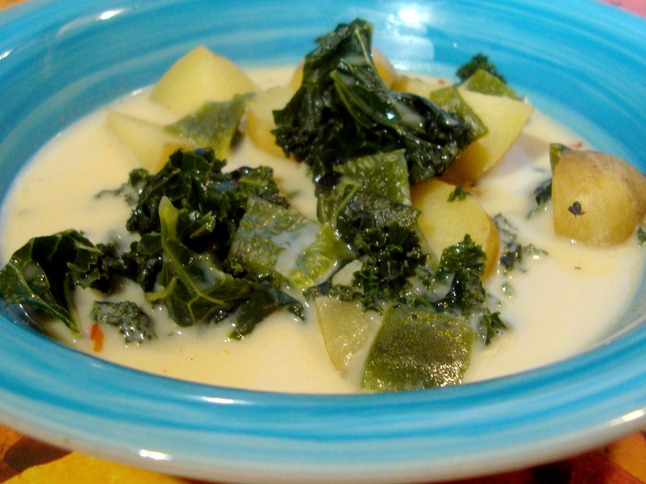 Mary Bilyeu | Contributor
After an amazing dinner I enjoyed recently at
Taqueria La Fiesta
(which I'll be writing about soon; still catching up after having no power after the snow last week), I desperately wanted some more of head cook Estella's warming, comforting
poblano pepper soup
.
Well, I wasn't in a position to get an influx at 6 a.m. to satisfy my craving! So I had to make my own.
It's very good, though not quite the same. But this version was inspired by Estella and the passion with which she cooks and feeds her loved ones and customers.
Poblano Pepper Soup with Potatoes
1 poblano pepper
2 cups vegetable broth
salt and pepper, to taste
generous sprinkling of red pepper flakes
1 cup small Yukon Gold potat
oes, quartered
1-1/2 cups chopped kale 1/4 cup half-and-half
2 ounces shredded Monterey Jack cheese
Carefully place pepper over a gas stove-top burner and char it lightly over medium-low heat watching it constantly. Place into a small paper bag and let it rest for 5 minutes until cool enough to handle. Cut ends from the pepper, halve lengthwise, remove seeds, and chop into 1/2-inch pieces.
In a medium saucepan, heat broth, salt, pepper, and red pepper flakes over medium-high heat. Add potatoes and cook for 5 minutes. Add kale and chopped pepper; cook for 5 more minutes. Stir in half-and-half and cheese, cooking just until cheese melts. Serve hot.
Makes 2 servings.

Mary Bilyeu writes for AnnArbor.com on Tuesdays, Wednesdays, and Fridays, telling about her adventures in the kitchen - making dinner, celebrating holidays, entering cooking contests, meeting new friends ... whatever strikes her fancy. She is also on a mission to find great deals for her Frugal Floozie Friday posts, seeking fabulous food at restaurants on the limited budget of only $5 per person. Feel free to email her with questions, comments, or suggestions: yentamary@gmail.com.

Go visit Mary's blog — Food Floozie — where she enthuses and effuses over all things food-related; and look for her monthly articles in the Washtenaw Jewish News. "Like" her on Facebook, or send a tweet on Twitter, too.

The phrase "You Should Only Be Happy" (written in Hebrew on the stone pictured in this post) comes from Deuteronomy 16:15 and is a wish for all her readers - when you come to visit here, may you always be happy.