Peggy Lampman's Tuesday dinnerFEED
Recipe:

Polka-Dot Roasted Broccoli and Potato Salad is a one-of-a-kind, made in Michigan original

Posted on Tue, Jul 5, 2011 : 7:31 a.m.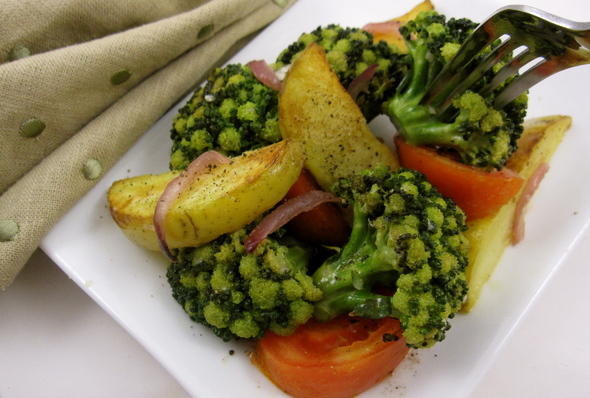 Peggy Lampman | Contributor

Peggy Lampman's Tuesday dinnerFeed
No, this isn't some new California-designed broccoli hybrid, like broccoflower. This is a one-of-a-kind, made in Michigan broccoli original. It was created by the exigencies of weather patterns and sold at the farmers market by a farmer who thought they were cute.
I think they're cute too, and was glad the application of heat didn't compromise their allure.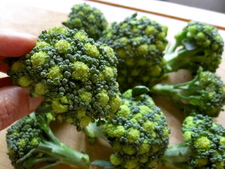 Peggy Lampman | Contributor
If you make this recipe, I can't promise you'll find polka-dot broccoli. But I'd imagine the good old-fashioned solid green broccoli would be a fine substitute, though perhaps less charming.
Yield: 4 servings
Ingredients

7-8 cups broccoli florets

4-5 cups Yukon gold potato wedges

1 large tomato, cut into wedges

2/3 cup extra virgin olive oil plus 2 tablespoons

2 tablespoons red wine vinegar

1 teaspoon minced garlic

1/2 small red onion, sliced (optional)
Directions
1. Position a rack in the center of the oven and heat to 425 degrees.
2. Toss or brush florets with 1/3 cup of the oil and spread in a single layer on half a foil-lined baking sheet. Toss potatoes with 1/3 cup olive oil. Lightly season with kosher salt and freshly ground pepper and spread on remainder of cooking sheet. Roast in oven 15 minutes or until broccoli is browned in spots. Remove broccoli from tray and reserve. Turn potatoes and continue roasting until golden brown and tender, about 10 additional minutes.
3. Whisk together remaining 2 tablespoons olive oil, vinegar and garlic. Toss with tomatoes, broccoli and potatoes and red onion, if using. Season to taste with kosher salt and freshly ground pepper.
Looking for a specific recipe? Click here for dinnerFeed's recipe search engine; type the recipe or ingredient into the search box. I am a real-time food writer and photographer posting daily feeds on my website and in the Food & Drink section of Annarbor.com. You may also e-mail me at peggy@dinnerfeed.com.