Posted on
Tue, May 8, 2012 : 2:45 p.m.
Pomegranate-glazed sweet potatoes - this sweet and tart recipe is flexible accompaniment to many main dishes
By Mary Bilyeu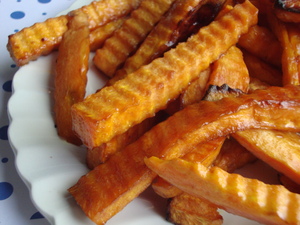 Mary Bilyeu | Contributor
Sweet potatoes aren't just for Thanksgiving. One of the guests at the first Seder I attended at Passover brought a rich, sweet casserole featuring this gorgeous vegetable; and my very dear friend Candace, of Mi Chiamo Candace, recently posted about a flavorful spiced Roasted Sweet Potato Salad. So with all this attention being paid to them, I've been craving sweet potatoes, which I adore.
This is a ridiculously simple preparation in which the sweetness of the main attraction contrasts with, and complements, the tartness of the pomegranate molasses. And the house smells so, so good while this dish is baking. These spears were fabulously delicious; I was sorely tempted to eat the entire batch instead of sharing!
This is an easy accompaniment to chicken, pork, burgers... even turkey!
Pomegranate-Glazed Sweet Potato Spears
2 large sweet potatoes, peeled, cut lengthwise into 3/4-inch-wide strips
1/4 cup extra-virgin olive oil
1/8 cup pomegranate molasses
3/4 teaspoon kosher salt
Preheat oven to 375 degrees. Line a baking sheet with foil.
In a large bowl, toss the sweet potatoes with the oil and the pomegranate molasses. Place in a single layer onto the baking sheet and sprinkle with the salt. Bake for 1 hour until the sweet potatoes are glazed, caramelized, and tender.
Serves 6 as a side dish.

Mary Bilyeu
writes about her adventures in the kitchen - making dinner, celebrating holidays, entering cooking contests ... whatever strikes her fancy. She is also on a mission to find great deals for her Frugal Floozie Friday posts, seeking fabulous food at restaurants on the limited budget of only $5 per person. Feel free to email her with questions or comments or suggestions:
yentamary@gmail.com
.
You should visit Mary's blog — Food Floozie — on which she enthuses and effuses over all things food-related. And be sure to look for her monthly articles about holiday foods and traditions in the Washtenaw Jewish News.
The phrase "You Should Only Be Happy" (written in Hebrew on the stone pictured in this post) comes from Deuteronomy 16:15 and is a wish for all her readers - when you come to visit here, may you always be happy.