Posted on
Fri, Jul 27, 2012 : 7:17 a.m.
Pomegranate Lamb & Grape Kebobs - well-soaked skewers prevent spinning & scorching
By Peggy Lampman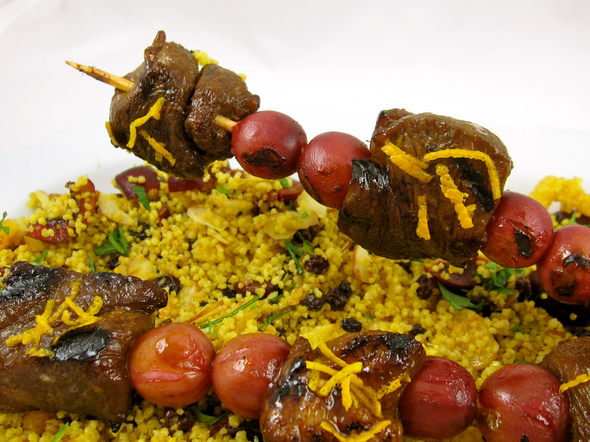 Peggy Lampman | Contributor

To receive my lastest dinnerFeed posts
by email, sign up here.
Most of us have read about the healthful benefits and antioxidant properties of
pomegranate
—pomegranate juices, in fact, are commonplace in grocery stores. But have you ever cooked with pomegranate molasses?
It's a thick, sweet and tart syrup, with only one ingredient listed on the label: pomegranate juice concentrate. I purchase Cortas pomegranate molasses from the Mediterranean Market on Stone School Road, but see it in most grocery stores around town. The rich tangy flavor of pomegranate molasses is a marvelous complement to lamb.
When stringing kebobs, I use well-soaked, flat-edged, bamboo skewers. The flat edges keep the ingredients from spinning when turning the kebobs and soaking the wood helps keep your skewer from burning over hot fires. Kebob rack and skewer racks may also be used.
This is marvelous paired with couscous tossed with olive oil, pitted cherries and dried fruit.
Yield: Approx. 16 kebobs (3 pieces meat per kebob)

Marinate Time: 4-24 hours

Ingredients
1/2 cup pomegranate syrup
1/4 cup extra virgin olive oil

Juice and zest from 1 orange
2 teaspoons minced garlic

16 skewers

2 pounds lean, skinless and boneless leg of lamb, cut into 1-inch cubes

1 bunch large, seedless red grapes
1 tablespoon chopped fresh mint
Directions
1. Whisk together pomegranate syrup, olive oil, orange juice (reserve zest) and garlic. Season lamb with kosher salt and freshly ground pepper and toss lamb with sauce to completely coat. Marinate lamb in pomegranate sauce at least 4 hours and up to 24 hours, refrigerated, stirring occasionally.
2. If using wooden or bamboo skewers, let soak in water 30 minutes. Remove grapes from stem; wash and drain.

3. With a slotted spoon, remove lamb from marinade. String lamb and grapes onto skewers, alternating a cube of lamb and 1-2 grapes to fit each skewer.

4. Prepare gas or charcoal grill to high heat. Grill 1 1/2-2 1/2 minutes per side, for medium rare. Sprinkle reserved orange zest and chopped mint over kebobs. Delicious served over a bed of Fruit-Spiked Couscous.