Posted on
Wed, May 15, 2013 : 3:49 p.m.
Pop-up restaurant Righteous Rojo coming back to Ann Arbor Saturday
By Jessica Webster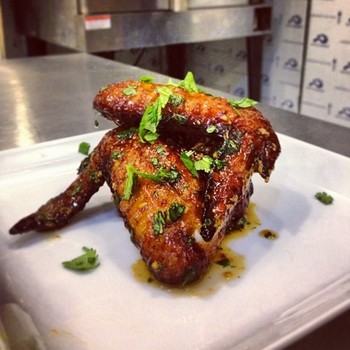 Courtesy photo
Take one former "Mad Men"-era gentlemen's club, add one inspired chef, mix well with a town hungry for creative cooking, and you might find yourself at the
Righteous Rojo
pop-up dinner at the Ann Arbor Club on Saturday evening.
Righteous Rojo is the brainchild of full-time graphic designer and part-time chef Brad Greenhill. Greenhill began his culinary career at D'Amatos in Ann Arbor and went on to work at other Myles Anton restaurants before heading to Boston's North End to head up his own kitchen team.
After forging a path in the food world, Greenhill switched gears and made his way back to southeast Michigan.
"I got a little burned out working in restaurants and started a graphic design company," said Greenhill in a phone interview. "But I like to bring people together over food. I was hosting dinners at my house all the time. Eventually I thought I should make it more legitimate and find a place to do them."
Greenhill now hosts regular pop-up evenings at locations in Ann Arbor and Detroit. This weekend's event will take place at the Ann Arbor Club, located on the third floor at 103 E. Liberty St., right above Cherry Republic.
"it's an old men's club or gentleman's club," explained Greenhills. "We've had a couple of 826 Michigan fundraising events there in the past. It's like a fossil from the 60s with a bunch of pool tables and card tables. There are also two long oak tables that can each seat about 20 people."
Greenhills considers himself a seasonal Italian chef who incorporates a lot of Asian and southern American cuisine.
"In terms of sourcing, I try to stick with local as much as possible," said Greenhills. "Many chefs share a similar ethos; they care about where the food comes from. I draw a lot of influence from chefs like Thomas Keller and Mario Batali, but there are so many great chefs; I just kind of pull from everyone."
This weekend's event features a choice between a menus designed for vegetarians or omnivores. Both menus include seasonal vegetables like green garbanzos (with sea salt, Sichuan pepper and aleppo) and roasted asparagus (with oveage, charred lemon, crumbs and yogurt).
Reservation for Saturday night's event can be made via the Righteous Rojo site. A $60 per person donation is suggested, and an additional $20 donation will get you beverage pairings. There are seatings at 6:45 p.m. and 9:15 p.m.
Jessica Webster leads the Food & Grocery section for AnnArbor.com, a part of the MLive Media Group. Reach her at JessicaWebster@annarbor.com. You also can follow her on Twitter or subscribe to AnnArbor.com's email newsletters.