Posted on
Wed, Oct 26, 2011 : 4:52 a.m.
Pork and Shiitakes Lo Mein quicker and more nutritious than takeout
By Peggy Lampman
Peggy Lampman | Contributor

Peggy Lampman's Wednesday dinnerFeed
Yesterday's leftover pork combined with a pre-packaged stir fry kit made this dinner come together quicker than if I'd ordered take-out. I understand that pre-cut and packaged vegetables are less nutritious and flavorful than vegetables you'd prep yourself, but I'll bet the nutritional value of this dish scores higher than take-out.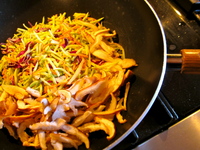 Many stir-fry vegetable kit options are available in most produce sections. I used a kit that contained — in addition to vegetables — noodles and teriyaki sauce, though any pre-packed stir-fry would be fine. If you've the time, thinly slice cabbage, julienne carrots and stir-fry over high heat with pea pods. Boil soba noodles to serve with the dinner, seasoning with teriyaki sauce to taste.
Yield: 4 cups
Time: 10 minutes
Ingredients
1 tablespoon peanut, canola or grape seed oil
1 (12- to16-ounce bag) stir fry vegies, noodles and teriyaki sauce
4 ounces shiitake mushrooms, wiped clean and sliced
2 teaspoons grated ginger
2-3 cups leftover pork roast, cut into 2-inch julienne strips
Red pepper flakes
Directions
1. In a large sauté pan or wok, heat oil to medium heat. Sauté ginger 1 minute. Raise heat to high and add slaw and shiitakes to pan. Stir fry 2 minutes.
2. Meanwhile, pierce noodle bag with fork (according to package instructions), and heat in microwave on high 1 minute.
3. Add julienned pork, microwaved noodles from package, and 1/2 pack (1 tablespoon) teriyaki sauce to slaw mixture. Stir fry an additional 1-2 minutes, adding additional teriyaki sauce to taste. Season to taste with red pepper flakes and serve.

My new web site (packed with holiday recipes) is coming soon! But in the meantime, If you're looking for a specific recipe, click here for dinnerFeed's recipe search engine; type the recipe or ingredient into the search box. I am a real-time food writer and photographer posting daily feeds on my website and in the Food & Drink section of Annarbor.com. You may also e-mail me at peggy@dinnerfeed.com.