Posted on
Tue, Jul 23, 2013 : 8 a.m.
Pork with sweet-tart cherry sauce - dinner can be on the table in 15 minutes
By Mary Bilyeu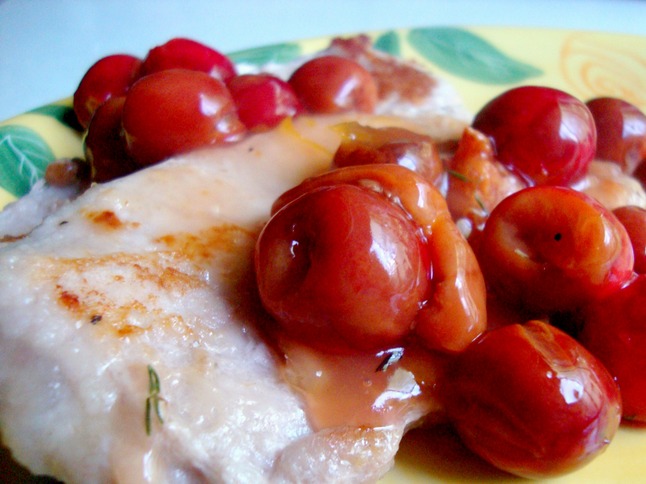 Mary Bilyeu | Contributor
This dinner can be made in about 15 minutes — really! Thinly sliced pork cooks while the sauce boils... and that's it, just put them together on a plate. Who needs drive-thrus or take-out or frozen pizzas?
I was given presents of fresh tart cherries — Michigan's specialty! — from my ex-husband and some beautiful, fragrant fresh thyme from my friend Penny. People know that I will always happily put gifts of food to use; and then, when I enjoy whatever dish I've made — pie, jam, or this pork — I think of the very generous loved ones who shared their bounty with me.
The only thing I like better is sharing gifts of food in return.
Pork with Sweet-Tart Cherry Sauce
Pork:
1/2 tablespoon oil
scant 1/4 cup flour
1/2 teaspoon kosher salt
1/4 teaspoon lemon pepper
1 pound thinly sliced pork chops (6 pieces)
Sauce:
1 cup pitted tart cherries
1 tablespoon orange vinegar
2 tablespoons orange marmalade
1 tablespoon honey
pinch of kosher salt
1/2 teaspoon fresh thyme leaves
1/4 cup water
1/2 teaspoon cornstarch
Heat the oil in a large skillet over medium-high heat. Combine the flour, salt, and pepper in a shallow bowl. One by one, dredge both sides of each pork chop in the flour, then place into the skillet. Cook 3-4 minutes per side until pork is golden.
Meanwhile, combine all of the sauce ingredients in a small saucepan. Bring to a boil, then turn heat to "low" and cook just until thickened, 1 minute or so.
Place three pieces of pork onto each of two plates, then top with cherry sauce.
Serves 2.

Mary Bilyeu - a self-proclaimed Food Floozie (named for her blog, which is taking a summer vacation) - writes for AnnArbor.com on Tuesdays, Wednesdays, and Fridays, telling about her adventures in the kitchen. She is also on a mission to find great deals for her Frugal Floozie Friday posts, seeking fabulous food at restaurants on the limited budget of only $5 per person. Feel free to email her with questions, comments, or suggestions: yentamary@gmail.com.

The phrase "You Should Only Be Happy" (written in Hebrew on the stone pictured in this post) comes from Deuteronomy 16:15 and is a wish for all her readers - when you come to visit here, may you always be happy.