Posted on
Thu, May 12, 2011 : 6:34 a.m.
There's nothing phony about this pho
By Jessica Webster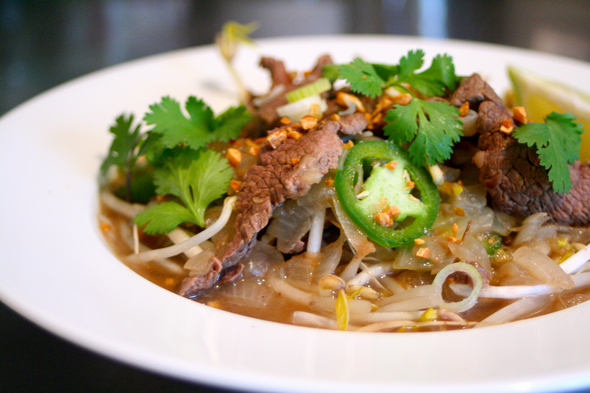 Jessica Webster | AnnArbor.com
I've been borderline obsessed with pho since my first taste at Tomukun Noodle last year in downtown Ann Arbor.
A beef and noodle dish that originates in Vietnam, pho (pronounced "fuh") contains many of my favorite ingredients: garlic, cilantro, lime and onions. Plus, as a person who loves puns, I enjoy talking about it nearly as much as I love eating it. Pho sure.
Every time I ate pho at a restaurant — and it was getting to be a habit with me — I would think to myself: "I should be able to make this." I could unlock the secret of pho and eat pho in the comfort of my own home for breakfast, lunch and dinner, should I choose to.
So I set out to find the perfect pho recipe. I started with some recipes that claimed to be simplified and easy, but they seemed liked barely glorified beef noodle soups.
Phony, if you will.
But at the other end of the spectrum, the authentic recipes called for hours spent boiling, draining and skimming pots of knuckle and leg bones.
I have a big admission here: I'm totally turned off by recipes that include directions to "skim off the scum that rises to the top." It might stem from my lack of confidence that I will get all that scum out of the food. It might just be that the word "scum" is terrifically unappetizing.
And now I realize that I have used that word three times in this food column.
Jessica Webster | AnnArbor.com
So between the phony pho and the labor-intensive alternatives, I was at something of an impasse. Was I cursed to only be able to dribble delicious pho down the front of my shirt (for that seems to be an inevitability) at restaurants?
I turned to my friends for advice, and almost immediately got just the recipe I was looking for. This one starts with store-bought beef broth (I use low-sodium broth, then season to my own taste) but uses the classic star anise and cinnamon aromatics, giving the soup a delicious depth of flavor.
The recipe comes from Janis Siegel, a nine-time Grammy award winning singer with The Manhattan Transfer, whose culinary instincts are nearly as well-honed as her jazz chops and who is, inexplicably, also always very kind to me. Janis, too, fell in love with pho, and adapted this recipe to cook at home.
Janis's Beef Pho
Ingredients
3 teaspoons olive oil
1 cup onions chopped
1 pound lean sirloin, thinly sliced
4 cups beef broth
1 cinnamon stick
1 or 2 star anise pods
4-5 black peppercorns
1/2 teaspoon sea salt
8-ounce packaged maifun rice noodles
2 scallions, chopped
1 cup bean sprouts
chopped fresh cilantro
3 cloves of garlic, minced
1 lime, quartered
optional: 1 jalapeno pepper, sliced
Directions
Heat 2 teaspoons olive oil in a large saucepan over medium high heat. Add onion and saute until softened and translucent, about 3 minutes. Add beef and cook 2-3 min. Add the beef broth, cinnamon stick, star anise, peppercorns, and salt. Bring to a boil. Reduce heat and simmer 10 minutes.
In a small frying pan, heat 1 teaspoon olive oil. Add minced garlic and fry until the garlic just starts to turn golden brown. Turn out onto a folded paper towel to drain and set aside.
Meanwhile, cook the rice noodles separately, according to the package directions. Drain and transfer to 4 heated soup bowls. Remove cinnamon stick, anise, and peppercorns from beef mixture. Using a slotted spoon, spoon beef and onion over noodles. Top beef with scallions, cilantro, sprouts, garlic and jalapeno slices. Ladle broth over dishes and serve with lime and Sriracha sauce.
Makes 4 servings.
Bonus video: Here's Janis Siegel, with The Manhattan Transfer, singing one of their signature songs:

Jessica Webster leads the Food & Drink section at AnnArbor.com. You can reach her at JessicaWebster@AnnArbor.com.