Posted on
Tue, Dec 27, 2011 : 9:46 a.m.
Stir-fried Chicken with Shiitakes and Broccolini is full of flavor, not fat
By Peggy Lampman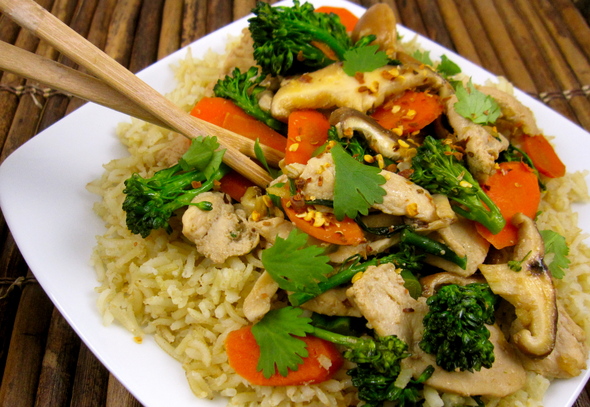 Peggy Lampman | Contributor

The new Holiday Cookbook answers all of your cooking needs. Strapped for time? Check out the well-tested Super-Simple section.
I'm calling for a time-out. Whew. I can barely snap my jeans after the exigencies of last week. A couple of hours at the gym and a lightened up stir-fry is on the docket for today.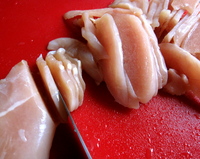 This is a recipe that can be adapted to any leftovers you may have in your fridge. I have frozen chicken breasts and miscellaneous vegetables. I'm glad the chicken is frozen; I'll thaw it an hour or so then slice it. It's far easier to get those paper thin slices of chicken, which cook quickly, when the breasts are slightly frozen.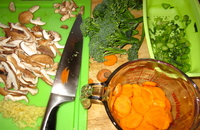 If ever there were recipes that required you gather your mise en place prior to beginning, stir fries would rank at the top. Let the chicken marinate while you prep your ingredients.
I used Trader Joe's Quick-Cook Organic Brown Basmati Rice. Most brown rice takes a good 45 minutes to cook; this brand is ready in 15 because the rice is par-boiled. I still prefer the bite and flavor of the long cook version, but I turn to this cello bag when I'm in a hurry. To my palate, it's one of the better quick-cook brown rice options.
The following recipe is drenched in flavor, not fat.
Yield: 3-4 servings
Ingredients
2 1/2 tablespoons soy sauce
1/2 tablespoon rice wine vinegar
1 tablespoon sherry or Madeira
1- 1 1/4 pounds boneless, skinless chicken breasts, thinly sliced
3 tablespoons peanut or sesame oil
1 bunch broccolini (1/2- 3/4 pound), washed, stems removed and cut into small circles
1 1/2 cups thinly sliced carrots (2-3 carrots)
3-4 ounces shiitake mushrooms, cleaned and sliced
1 teaspoon minced garlic
1 tablespoon grated fresh ginger
Chopped cilantro, optional
Red pepper flakes, optional
Instructions
1. Whisk together 1 1/2 tablespoons soy sauce, rice wine vinegar and sherry or Madeira on a large platter. Let chicken sit in marinade while you prep the remaining ingredients, turning once to coat both sides.
2. Heat 2 tablespoons of the oil to high heat and cook chicken 1-2 minutes per side until just cooked through. Remove and reserve.
3. In same pan, reduce heat to medium high then stir fry broccolini tips, stems and carrots; stir-fry 3-4 minutes. Add remaining soy sauce, shiitakes, garlic and ginger and cook 2 additional minutes, stirring, or until crisp tender. Reduce heat to simmer, and return chicken to pan.Garnish with cilantro and red pepper flakes, if using.
My new web site (packed with holiday recipes) has recently been launched. (www.dinnerFeed.com)! I'm a real-time food writer and photographer posting daily feeds on my website and in the Food & Drink section of Annarbor.com. You may also e-mail me at peggy@dinnerfeed.com.