Posted on
Tue, May 18, 2010 : 6:30 a.m.
An easy dessert for Shavuot: I scream for 'fried' ice cream
By Mary Bilyeu

Shavuot
[shah-voo-WOTE], which begins at sundown tonight, is one of my very favorite Jewish holidays. It commemorates receiving the
Torah
at Mt. Sinai, and one of the ways to honor the holiday is through reading and learning late into the night.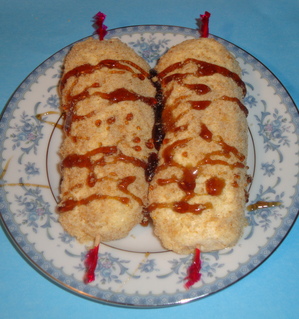 Mary Bilyeu | Contributor
But the best way (for a food-obsessed kinda girl like me, anyway) to celebrate is to indulge in the tradition of eating dairy foods.
Blintzes
are often served, and one place of worship I know of offers cheesecake at midnight once the more serious and studious events have been completed. This is a time of joy!
Last year, I tried to win a cheesecake by entering a contest that was seeking dairy recipes for Shavuot. I won a very cool mug with Yiddish proverbs inscribed on it, but that was all -- alas, no grand prize for me that time. And I had the cutest idea, too: shaping balls of "fried" ice cream to resemble Torah scrolls -- honoring both the event being commemorated as well as the dairy tradition that has developed for the holiday.
The history of eating dairy for Shavuot is a bit murky. Some say it derives from Exodus 3:8 in which "a land flowing with milk and honey" is mentioned. Others believe it stems from a reference in the Song of Songs to "honey and milk" seeming to be "under your tongue" (4:11). Regardless of the origin, any excuse to justify eating blintzes and cheesecake and other creamy treats is okay with me.
Nearly everyone has eaten "fried" ice cream, and someone always wonders how it gets fried without melting ... which, needless to say, it doesn't because it's not actually deep fried. I've used crushed wafers, and even lightly salted tortilla chips, for the coating; combine them with a bit of cinnamon and some sugar to add to the crispness, and one would think there was an actual crust on them! This is a ridiculously easy dessert that only requires a short preparation time. And it's a great recipe to make with kids, as I'm sure you can imagine!
"Fried" Ice Cream

2 cups ice cream (any flavor you like, as long as it goes with the cookie coating ... I don't recommend mint, unless you use chocolate cookies)

1 cup Nilla wafers, ground fine
1/4 cup sugar

3/4 teaspoon cinnamon

chocolate or caramel sauce, for drizzling

whipped cream, optional
Directions
1. Divide ice cream into 4 1/2-cup scoops; form each into a log, place onto a Silpat-lined tray and freeze for 30 minutes or until firm.

2. Combine the ground wafers, sugar and cinnamon on a plate; roll each ice cream log in the mixture until well-coated, place onto a tray and freeze for 30 minutes until firm.

3. Re-roll the ice cream logs in remaining crumbs, and re-freeze until ready to serve.

4. Take out 2 or 4 dessert plates and place 1 or 2 logs onto each plate; drizzle with chocolate or caramel sauce and top with whipped cream, if desired.
Serves 2 - 4, but the recipe doubles or triples easily. And If you really want to complete the look of Torah scrolls, simply insert frilly toothpicks into the ends of the ice cream logs.
Mary Bilyeu has won or placed in more than 60 cooking contests and writes about her adventures in the kitchen. The phrase "You Should Only Be Happy" (written in Hebrew on the stone pictured next to the blog's title) comes from Deuteronomy 16:15 and is a wish for all her readers as they cook along with her ... may you always be happy here. You can contact Mary at yentamary@gmail.com or follow her on Twitter (twitter.com/foodfloozie). And check out her food blog: foodfloozie.blogspot.com, in which she cooks, reviews restaurants, and generally enthuses and effuses over all things food-related!