Posted on
Fri, Jun 29, 2012 : 4:48 a.m.
Southwest Roasted Potato & Corn Salad is best enjoyed soon after assembly
By Peggy Lampman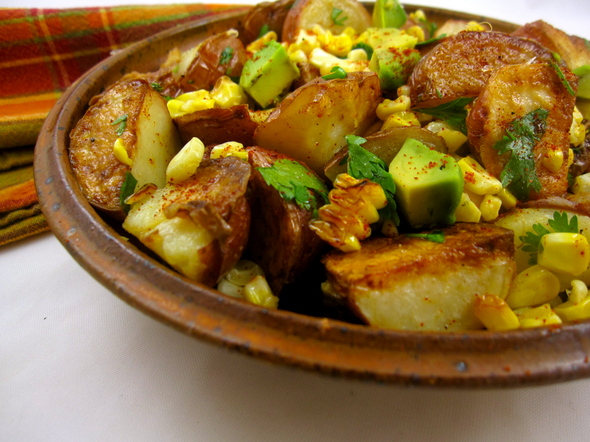 Peggy Lampman | Contributor

To receive my lastest dinnerFeed posts
by email, sign up here.
Here's a recipe that would be a great side dish for almost anything hot off the grill — particularly items with Southwestern flavors, like the Firecracker Flank Steak recipe I posted yesterday.
This salad is all I'll require for a side dish, as it bundles a potato and vegetable salad together. Its only drawback is that unlike many potato and pasta salads, which may be made well in advance, this salad is best enjoyed 30 to 60 minutes out of the oven — room temperature — with the avocado tossed in at the last minute.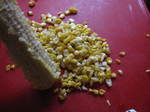 The size of my sheet pan dictated the amount of potatoes and corn I used; if you increase the amount, you will need to use an additional sheet pan, and rotate the pans in the oven in the middle of cooking time. If I had ripe cherry or grape tomatoes on hand, I would have considered tossing them in for texture, color and for a sweet-tart bite.
Yield: 4 side salads
Active Time: 20 minutes

Roasting Time: Approx. 20 minutes
Ingredients
2 ears corn, husks and silks removed
1 pound red-skinned potatoes, washed and cut into 3/4-inch chunks
4 tablespoons canola oil, divided
1/2 teaspoon finely minced garlic
1 tablespoon lime juice
1/2 teaspoon ground cumin
2 tablespoons chopped cilantro
Pinch cayenne or chipotle powder or to taste
1 ripe avocado, pitted, skin removed and cut into 1/2-inch chunks
Directions
1. Preheat oven to 450 degrees.
2. Toss potatoes and rub corn husks with 2 tablespoons of oil; lightly season with kosher salt and freshly ground pepper. Place on foil-lined baking sheet, with potato pieces cut side down, and roast on center rack of oven ten minutes.

3. Meanwhile, to make a dressing, whisk together remaining 2 tablespoon oil, garlic, lime juice and cumin. Stir in cilantro and season to taste with cayenne or chipotle powder.

4. Remove potatoes and corn from oven and prick potatoes with a fork. If they are tender, remove from pan with a spatula (corn takes longer to roast than do the potatoes) and toss with dressing. Turn corn and continue roasting until corn is tender, about 10 additional minutes.

5. When corn is cool enough to handle, with a sharp knife, carefully cut kernels from the cob and toss with the dressing and potatoes. Stir in avocado and season salad to taste with kosher salt, if needed.