YOU SHOULD ONLY BE HAPPY ....
recipe:

Provencal peppers - dish tastes like a virtual trip to the south of France

Posted on Tue, May 1, 2012 : 11 a.m.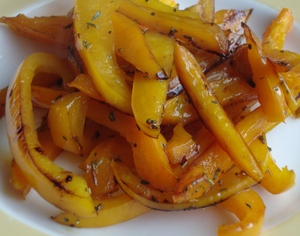 Mary Bilyeu | Contributor

Not only are these peppers beautiful, but they're sweet and delicious too! They are vivid both in color and in flavor.

A quick saute, a splash of good wine, a sprinkle of lovely French herbs, and you've got a gorgeous side dish to complement almost any meal. They'd even be great served on their own, as a vegan/vegetarian dish over rice or pasta.

Take a virtual trip to the south of France with this fabulous, easy recipe!

Provencal Peppers

2 tablespoons extra-virgin olive oil
1 medium yellow pepper, sliced thin
1 medium orange pepper, sliced thin
pinch of kosher salt
1/2 cup dry white wine
3/4 teaspoon herbes de Provence (available at specialty markets; try to get one that's a bit heavier on the lavender)


Heat oil in a large skillet over medium-high heat. Add peppers and salt; cook for 2-3 minutes, just to caramelize them a bit. Turn heat to medium-low, add wine, and cook for 10 minutes, stirring occasionally, until peppers are tender. Turn heat back up to medium-high and cook peppers, stirring frequently, just until the rest of the liquid is absorbed. Sprinkle with the herbes de Provence.

Serves 4-6 as a side dish.




writes about her adventures in the kitchen - making dinner, celebrating holidays, entering cooking contests ... whatever strikes her fancy. She is also on a mission to find great deals for her Frugal Floozie Friday posts, seeking fabulous food at restaurants on the limited budget of only $5 per person. Feel free to email her with questions or comments or suggestions: yentamary@gmail.com.
You should also visit Mary's blog — Food Floozie — on which she enthuses and effuses over all things food-related.



The phrase "You Should Only Be Happy" (written in Hebrew on the stone pictured in this post) comes from Deuteronomy 16:15 and is a wish for all her readers - when you come to visit here, may you always be happy.