Posted on
Wed, Nov 21, 2012 : 8 a.m.
Pumpkin apple bread is a luxurious treat with aromas and tastes of autumn
By Mary Bilyeu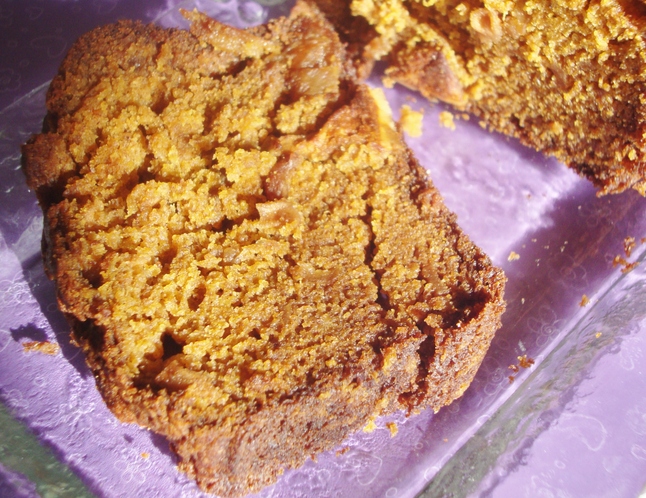 Mary Bilyeu | Contributor
Here is a perfect recipe for this time of year.
Whether you serve it at your Thanksgiving feast tomorrow, make it to give as a holiday gift, offer it at a seasonal brunch, or whip up a loaf just 'cause it's the weekend and you've got time to luxuriate over freshly baked treats, the fragrance, the taste... everything about this bread is just wonderful! It's not glamorous, it's just pure comfort food.
A schmear of butter, a dab of orange marmalade, and it's exceptional ....
Pumpkin Apple Bread
1 cup chopped dried apples
1/2 cup apple cider, very warm
1/2 cup butter, melted
1 cup pumpkin puree
3 tablespoons date syrup
2 eggs
2 teaspoons cinnamon
1 teaspoon nutmeg
1 teaspoon baking soda
1 teaspoon kosher salt
1 cup white flour
1/2 cup whole wheat flour
3/4 cup brown sugar
Preheat oven to 350 degrees. Grease an 8x4-inch glass loaf pan.
Place apples into a small bowl; cover with cider, and let rest for 5 minutes.
In a large mixing bowl, combine butter, pumpkin,date syrup, eggs, cinnamon, nutmeg, baking soda, and salt. Drain apples, then stir them into the batter. Stir in the flours and sugar, then pour batter into the prepared pan.
Bake for 50-60 minutes, until a tester inserted into the center comes out clean. Let cool completely before cutting and serving.
Makes 10 slices.

Mary Bilyeu writes for AnnArbor.com on Tuesdays, Wednesdays, and Fridays, telling about her adventures in the kitchen - making dinner, celebrating holidays, entering cooking contests, meeting new friends ... whatever strikes her fancy. She is also on a mission to find great deals for her Frugal Floozie Friday posts, seeking fabulous food at restaurants on the limited budget of only $5 per person. Feel free to email her with questions, comments, or suggestions: yentamary@gmail.com.

Go visit Mary's blog — Food Floozie — where she enthuses and effuses over all things food-related; and look for her monthly articles in the Washtenaw Jewish News. "Like" her on Facebook, or send a tweet on Twitter, too.

The phrase "You Should Only Be Happy" (written in Hebrew on the stone pictured in this post) comes from Deuteronomy 16:15 and is a wish for all her readers - when you come to visit here, may you always be happy.